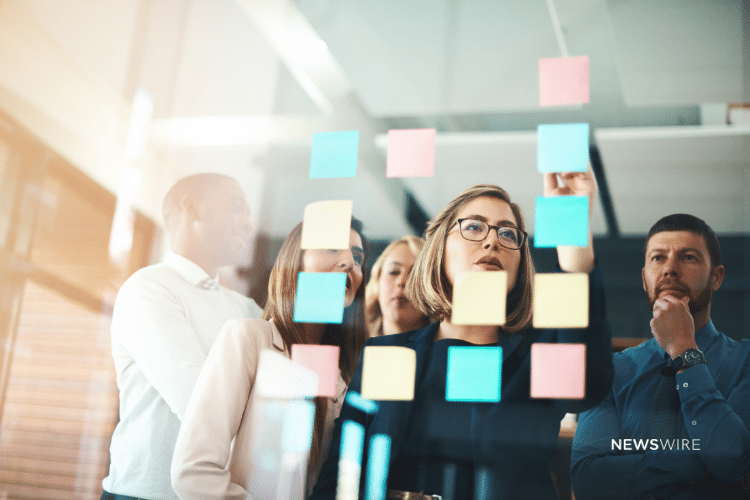 How to Turn a Press Release into Social Media Posts (Examples Inside) 
Have you heard the term, pillar content before?
If you haven't, pillar content is a piece of content that's broken down into additional materials.
Press releases are an excellent example of pillar content and in today's blog post, we're showing you (examples below) how we turned a press release into multiple social media posts.
But, before we get started, there are some rules you'll want to keep in mind before you hit Publish on a social post:
Respect the platform – When crafting a social media post, make sure your content fits the platform. Don't make the platform fit your content. For example, what works on Facebook might not work on Twitter and vice versa.
Make it interesting – Social media is meant to be social. Infuse your brand's voice and personality into the caption to catch people's attention enough to stop their scrolls, click on your content, and engage with your brand.
With this information in mind, here are some content ideas you can use today:
Create a branded image of an important quote from your press release.
Share a statistic in the caption and encourage people to read your release in full.
Film a quick video clip that highlights the topic of the press release, and in the caption, include a link for users to read more.
If you earned a media mention, share the link to the feature and tag the publication in your post.
How we Turned One Press Release into Three Social Media Posts
We recently shared an exciting announcement that the Media Advantage Plan (MAP), our full-service communications program received a refresh and is now the Press Release Optimizer (PRO).
PRO gives companies more flexibility in choosing a product offering that supports their goals and budgets.
The PRO program has three tiers:
Content PRO is for those who need more support with planning and crafting their messaging
Media PRO is for those who are looking for more visibility and outreach to the media, and the most comprehensive plan
Total PRO provides both content and media support.
This company update ticked off the box as a newsworthy topic so we distributed a press release using our Digital Plus distribution network.
NOTE: Our Digital Plus distribution channel includes distribution to thousands of digital media outlets including Associated Press, Google News, and Yahoo! Finance. Learn more.
Check out our full press release, Newswire Launches New Press Release Optimizer (PRO) to Help Companies Manage Their Content and Connect with Media for more information!
So, how did we turn our press release into three social media posts on LinkedIn, Facebook, and Twitter?
We explain our thought process for each post below.
Check it out!
LinkedIn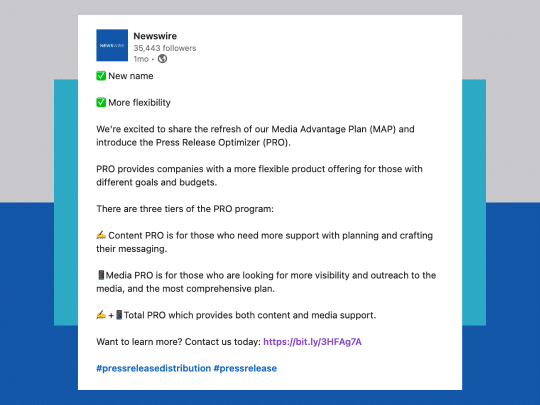 Rather than copying and pasting the information from the press release into the text box of a LinkedIn post, we took a different route.
We pared down the main message into an easy-to-digest format.
Here's how we did it:
The first sentence is the most important.
It's the hook of your post and reels people in to read it in its entirety.
For this one, we used green checkmark emojis to catch the users' eyes.
We paired those attention-grabbing emojis with content that piques interest enough for users to click the "…see more" prompt.
From there, we kept things short and focused on PRO – we share who it's made for and the various product tiers.
We used emojis again to supplement and summarize the information visually.
The call-to-action encourages users to reach out if they're interested in learning more about PRO. We sent them to our Contact page on the website from our post and in the comments, we shared a link to the full press release.
Facebook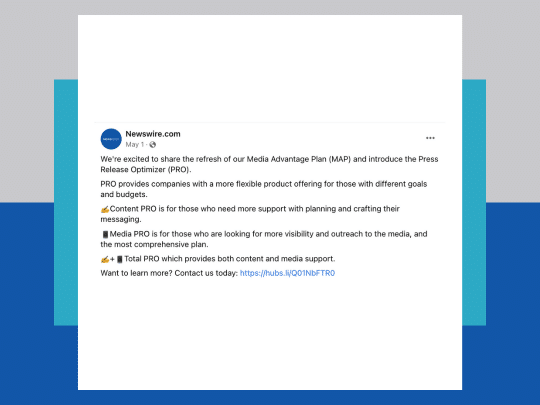 There's no need to reinvent the wheel when creating content for social.
Simple tweaks of the content to fit the context of the platform will do the trick.
In this case, we used the same imagery but removed the green checkmark hook.
Instead, we led off with the main message – refreshing our Media Advantage Plan (MAP) and introducing the Press Release Optimizer (PRO).
Again, we used emojis to draw attention to the three tiers of the PRO plan.
Twitter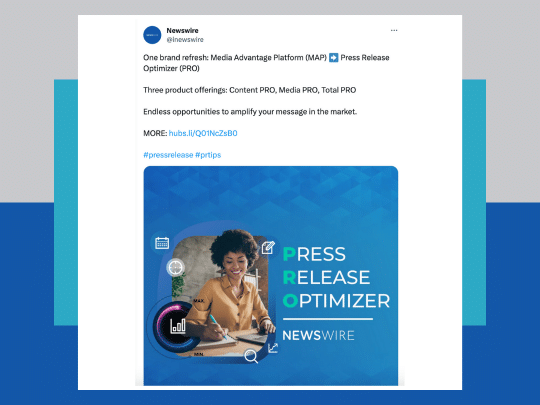 Brevity is the name of the game for Twitter. For this tweet, we condensed the message in a way that covered the main topic but didn't dig into the details like the LinkedIn and Facebook posts.
Because of this, instead of sending someone to the Contact page on the website, we instead sent them to the press release so they could read more about PRO and what each product offering entails.
Companies have a great opportunity to establish their presence, and utilizing press releases as pillar content can be an effective starting point to take advantage of the momentum and enhance the brand's visibility.
If you'd like to learn more about our PRO plan, contact us today!