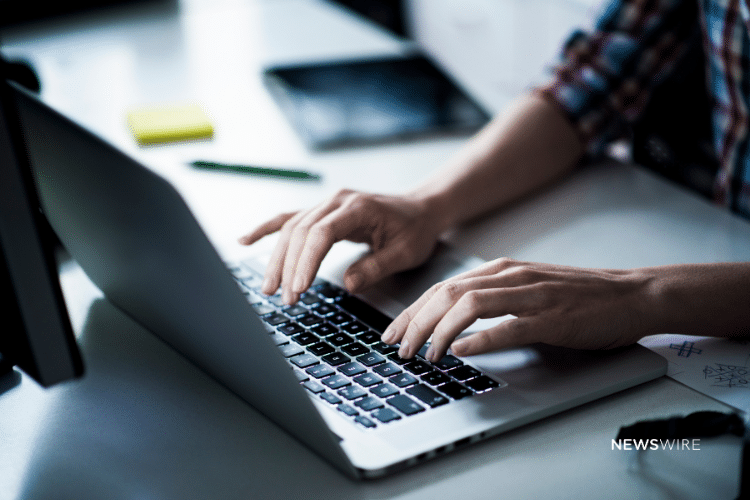 7 Press Release Writing Tips You Can Use Today
If you're reading this, you want to improve your press release writing.
And, you're actively looking for solutions to maximize the success of your press release distribution efforts.
We get it, and that's why we put together a list of seven press release writing tips you can use today to improve your releases.
7 Press Release Writing Tips
Identify a newsworthy angle.
The success of a press release lies in its relevancy to the target audience.
Before writing, ask yourself:
Is this newsworthy?
Will my audience care?
If you can't quickly answer "yes" to these questions, take that as a sign to get back to the drawing board and develop a new topic.
If you're feeling stuck, here are 10 topics to consider:
Awards 
Business funding
Community involvement
Company anniversary
Events (in-person and/or virtual)
New data/industry report
New hire/promotion
Product launch
Quarterly earnings
Rebrand
Set a goal.
Once you have a topic, it's time to set a goal.
Do you want:
App downloads?
Sign-ups for your upcoming event?
Downloads for your white paper?
Whatever your goal, your press release's content needs to focus on achieving the defined result.
Write with the target audience in mind.
When writing a press release, remember it's not about you or your brand. It's about the value you're providing to your target audience.
When you keep the target audience at the center of your writing process, you'll create content that speaks to your target audience's pain points, questions, interests and more.
Always remember that relevant content is shareable content.
Gather facts and stats.
Gathering facts and statistics is essential in supporting the overarching message of your press release.
Before you begin writing, organize your collected information to ensure you don't miss anything.
Which leads us to our next tip…
Use the proper press release format.
To adhere to the proper press release format each time, use the inverted pyramid.
The inverted pyramid addresses:
Who?
What?
Where?  
When?
Why?
How? 
You want to address all five of these questions in the first paragraph of your press release.
Create an outline.
To help streamline your press release writing process, we encourage you to create a press release template.
The press release example you create will guide your future campaigns.
Your press release template should follow this standard format:
Headline
To capture readers' attention, your press releases need to start with a clickable headline.
If you need support in the headline-writing department, check out our blog post Press Release Headlines Don't Have to be Boring for four actionable tips.
Sub-headline
This section provides additional information about the topic. It also creates more context around the main message of your press release campaign.
The sub-headline is between the headline and the first paragraph of the press release.
First Paragraph
The first paragraph of your press release is crucial. Use the inverted pyramid to highlight the key facts.
Body paragraphs
Your press release's body copy connects the dots for the reader.
To support the headline and align with your goal, share important information and statistics that directly speak to your target audience.
Quotes
Use quotes from a top executive or an expert in your organization for your press release.
Create impactful quotes in your press release to enhance your campaign and increase its shareability.
Call-to-action
End your press release with a clear call-to-action that guides the reader towards your brand's desired outcome.
Boilerplate
The boilerplate is the last part of your press release. It's essentially a shortened "About Us" section.
Check out our How to Write a Press Release Boilerplate blog for helpful tips and a free boilerplate template.
Use the power of Artificial Intelligence (AI) to your advantage.
At Newswire, we launched AImee, our AI Writing Assistant and Recommendation Engine, to help marketing professionals make the most of their press release distribution efforts.
Our customers have complimentary access to AImee who will either write your press release for you or help optimize what you've written.
You can learn more about AImee here.  
If you have questions, let us know!