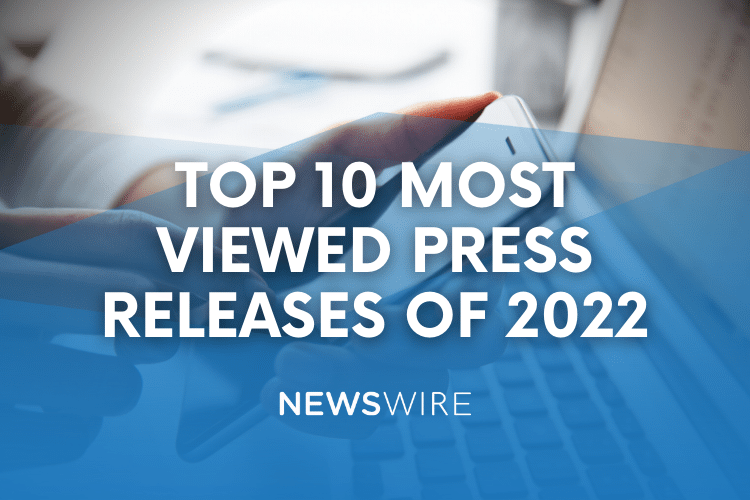 Newswire's Top 10 Most Viewed Press Releases of 2022
If you've been following us for some time, you might have noticed we talk about the value of consistent press release distribution.
Consistent press release distribution is an excellent way to build brand awareness, attract website traffic, improve SEO performance, generate leads, and more.
Over the past year, our team published 130 press releases for our Newswire brand.
The topics of these press releases varied. We covered team members who earned features in Forbes and Medium, client success stories, awards, and more.
By developing and distributing newsworthy topics, we attracted hundreds of thousands of views.
Out of the 130 press releases we distributed this year, here are our top 10 most viewed press releases. We share why they were successful and how each headline contributed to its success below.
Our Top 10 Most Viewed Press Releases of 2022
These press releases are ranked from one to 10. One being the most-viewed press release this year.
Traditional press releases are seen as a marketing must-do. A company has something to announce and they write a press release, check it off the list, and hope the media covers it.
We've turned the industry on its head (in the best way possible) with our Media Advantage Platform (MAP).
Because of that, Chief Executive Officers reap the benefits.
The use of the word "Transforms" in the headline highlights the power of our program and piques the interest of our readers.
People in the industry often joke that marketing budgets are the first to go or get reduced. But, for Chief Marketing Officers, this topic isn't a laughing matter. Getting more "bang for your buck" is always the goal and this headline and press release shared how our MAP maximizes marketing budgets.
Whoa. That's what we said when we learned we set some records in Q1. It was an exciting announcement and the perfect topic for a press release.
Including the dollar amount as well as the percentage of year-over-year growth caught people's attention and encouraged them to click and learn more about our records. 
This headline includes familiar names, Wall Street Journal, Forbes, and Retail Brew. When someone sees these top-tier publications mentioned, they're likely to stop, click, and learn more.
As the fourth most viewed press release in 2022, this headline creates an easy-to-understand connection between our MAP and landing earned media mentions in big-name publications for our clients.
Companies, no matter the size or industry are on a continual search for ways to expand their reach and connect with their target audience.
This headline spells out how our distribution networks help companies expand their reach.
Not every press release has to share an announcement.
In fact, press releases are an excellent educational tool, too. In this press release, we covered the basics of embargoed press releases. When people clicked on this piece of content, they knew they'd learn something new.
Awards are a great press release topic. These press releases aren't meant to toot your own horn. Rather, they're meant to show your target audience that your brand's an expert in your industry. Awards and accolades build trust and highlight credibility.
These awards are votes of confidence. They show our customers and prospects that our press release distribution services and media technology are valuable.
Leads are like coals fueling a furnace. The more you add, the hotter and more powerful it becomes.
That's how leads work for a business and it's something Chief Executive Officers are hyper-focused on creating and nurturing.
This press release highlighted how our MAP helps small and midsize businesses and their CEOs increase site traffic, warm new leads, establish themselves as thought leaders, and lower the acquisition cost for new accounts.
See number seven!
Relevancy was a catalyst of success for this particular press release as public companies share their earnings in March.
With earnings top of mind, this topical headline spoke directly to public companies who are in the midst of crafting their announcement.
Including the word "Compliant" in the headline was important because companies want peace of mind knowing their press releases are compliant with SEC disclosure standards.
That concludes the list of our top 10 most-viewed press releases of 2022!
This year was one for the books and we can't wait to build on the momentum as we head into the New Year. 

If your press release distribution efforts need a boost in 2023, we can help. Contact us today!