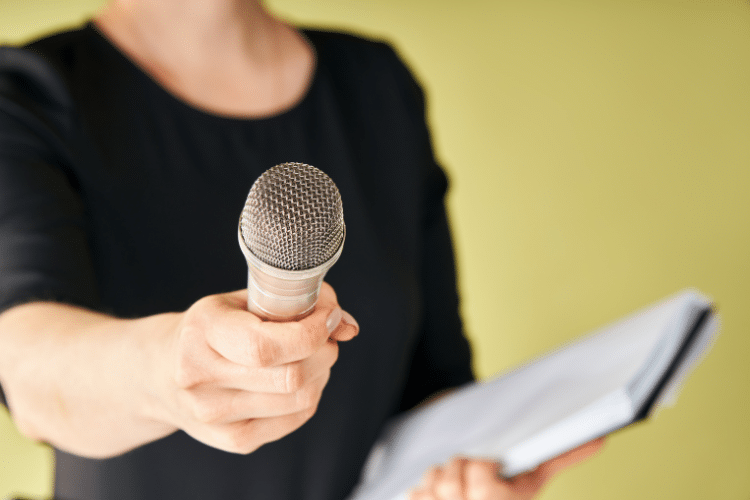 Prep Like a Pro: 3 Media Interview Tips
Congratulations! You just landed a media interview. You're equal parts excited and nervous and that's likely how you landed on this blog post in the first place.
Media interviews are an excellent way to make a name for yourself, build brand awareness, and establish credibility in your industry.
So, whether it's your first interview or your hundredth, there's always room to improve.
Let's get into it.
Do your homework
Preparation is the most important step of the entire media interview process. It helps organize your thoughts, gives you time to practice your responses, and builds confidence so when the time comes for your interview, you'll be ready to go.
Here's how you can prepare.
First things first, take time to read through and/or watch the interviewer's past interviews.
This will help you understand their tone, interview style, and the types of quotes they typically pull from their interviews.
Next, head over to the social channels of the interviewer and publication.
Take a look at the comments section of the posts that promoted past interviews. This will give you a good idea of not only who makes up their target audience but their reception to the interview content. Do they ask questions? Show their support? Share their frustrations?
All this information and more will help you adapt your responses and position your brand accordingly to create a common link to their audience.
Choose talking points
You've probably watched a movie or a show when a person walks on stage and forgets what they're going to say. The crowd goes silent and all you can hear is the feedback on the microphone.
Next thing you know the person runs off stage in embarrassment.
Well, let's make sure that's not you.
To avoid a similar situation during your media interview, it's imperative you take time to map out talking points based on the information you gathered from the interviewer and your research.
Once you know the topic and angle of the interview, you can define the key messaging points you absolutely want to cover during the interview.
Identifying these bullet points will keep you grounded should you find yourself stuck and also put you in a position to capitalize on the opportunity at hand.
Be confident
If you come off as timid and uncertain, the audience will pick up on that and not take what you're saying seriously.
You were approached by the journalist in the first place for a reason. You're the expert. You're the person they're leaning on to add value to the story they're building.
Believe in yourself and your experience and let it shine through during the interview.
Keep the dialogue flowing naturally with brief but impactful answers.
And be sure to steer clear of industry jargon. Use terminology and provide examples the average person would understand. This adds a layer of clarity consumers crave.
Want to learn more about this topic? Our Smart Start video covers all the details including
The benefits of securing a media interview.
Tactical advice for professionals who've scheduled an interview.
How to make the most of the opportunity.
Post-interview follow-up tips.
Check it out!