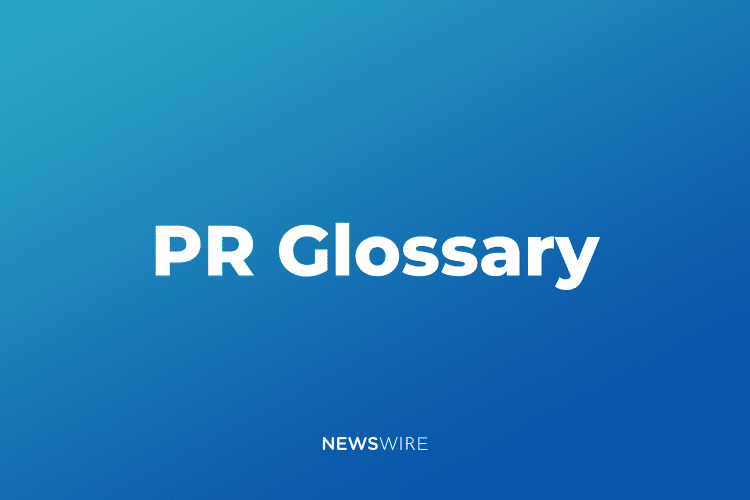 PR Glossary: 20 Terms You Should Know
Every industry has its own glossary of terms, and while some are straightforward, others can make you scratch your head and say what? Public relations is no different. From a press release to a boilerplate and everything in between, we've put together a comprehensive list of basic PR terms you should know.
Beat
A specific topic or subject matter a reporter covers.
Boilerplate
Found at the end of a press release, a boilerplate provides a brief description of a company, what they do, and the mission of the business. It's simple in nature and is much like an elevator pitch in that it highlights the most important information a company wants its target audience to know about their business.
Byline
A piece of content that's authored by a thought leader/expert on the topic. Bylines are written from a specific viewpoint and offer helpful advice and insights on a defined topic.
Earned Media
This is publicity that's gained from content that a brand has not paid for or produced on its own.
Think of earned media as digital word-of-mouth marketing that comes in the form of features, interviews, mentions, reposts, and more.
Embargo
The sharing of unpublished information between a PR professional and the media. The information cannot be published before a date and time that's agreed upon between both parties.
Exclusive
This means a story will be published to one specific publication. In most cases, an exclusive is given to larger publications with greater reach. With an exclusive, there's an unwritten rule that the news cannot be shared with other publications until the original publication publishes their story.
Impressions
Impressions are the total number of times a piece of content is either viewed OR has the potential to be viewed. Impressions do not count the people who click on or engage with your content, but rather those who were exposed to it.
Lede
This is the first sentence of the opening paragraph of a news story that's intended to capture the reader's attention.
The lede essentially sets the stage for what the piece of content will address.
Media Advisory
A media advisory is a one-page description of or an invitation to the press to attend an event you're hosting and includes the most important details of the event.
The event could be a press conference, grand opening, book signing, live demonstration, and so on.
Media Database
Think of a media database like you would a phone book, as it contains the contact information for relevant media persons. Creating and maintaining a media database ensures PR professionals will find the right people to connect with when pitching their press releases to gain earned media coverage.
Media Kit
A media kit is a collection of information about a company and typically contains foundational, evergreen pieces of content including:
Contact information
Background information on products/services
Press releases
Relevant multimedia
Company reports
FAQs
Awards
Educational resources such as case studies and other notable publications
Not for Attribution
During a conversation between a source and the media, the source can say this is "not for attribution." This means the source cannot be quoted by name. However, the reporter can identify the source by a general identifier, like a company spokesperson. 
On Background
This is information that can be published but only under circumstances negotiated between the source and the media person. This means the information can only be paraphrased, not quoted, and attributed with less specificity, such as "a source close to the company" or "a source familiar with the matter."
Off the Record
At the start of a conversation, a PR professional can use the term "off the record" which signals to the reporter they cannot and should not publicly share the information.
On the Record
Fair game. That's a simple way to summarize what on the record means. To put it formally, on the record means everything in a conversation between a PR professional and the media can be used and attributed to a source by name and job title.
Unless you say otherwise, assume everything you say in a conversation is considered on the record.
Owned Media
Media that a company owns and controls. Examples include:
Blog posts
Brochures
Email marketing campaigns
Newsletters
Sales sheets
Social media posts
Website content
Paid Media
Paid media, sometimes referred to as paid media advertising, is used to define any marketing tactics a company pays for. This type of media can include display ads, sponsored content, or pay-per-click advertising.
Typically, with paid media, brands pay a third party to distribute their message on an external platform to an audience.
Pitch
This is a short and to-the-point email (it can also be a phone call or a social media direct message) that's written specifically for the media and highlights the main message of a press release. The end goal of a pitch is to secure earned media attention.
Press Release
A press release is a compelling and concise news story that's typically written by a public relations professional and distributed to targeted media sources to announce something newsworthy. The overarching goal is to get coverage from relevant publications and be noticed by a company's target audience.
Press releases typically cover important news such as:
The release of a special report
A company milestone
A new product announcement/launch
A new round of funding
Announcement of a new executive
And much more
Press releases, no matter the announcement, when written correctly, address the who, what, where, when, why, and how. These are commonly referred to as the 5 W's + How which make up the foundation of the inverted pyramid.