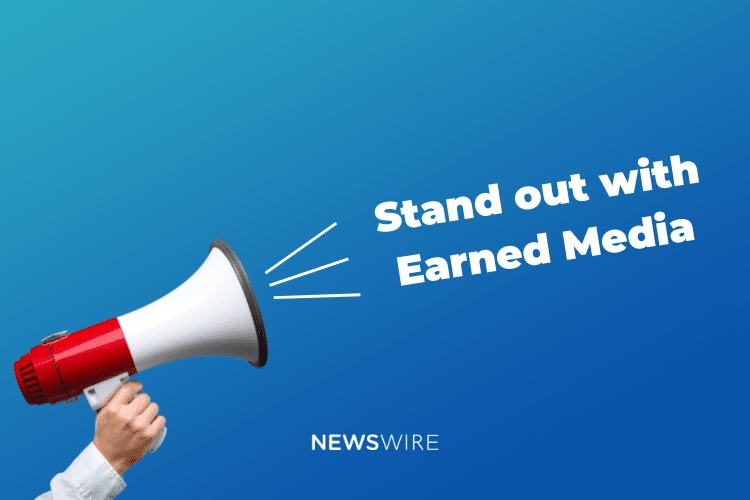 Anyone There? How Earned Media Helps Brands Stand Out
Maybe Katy Perry was on to something when she asked us if we ever felt like a plastic bag, drifting through the wind because it can feel like that when trying to capture our target audience's attention.
We're floating around aimlessly and can't seem to find our stride.
It shouldn't come as a surprise, either, as Google runs around 99,000 queries a second. At that rate, that adds up to 8.5 BILLION searches a day.
Your audience is there and looking for answers, but breaking away from the pack and standing out can feel next to impossible.
But, it doesn't have to be that way.
Earned Media Has Entered the Chat.
For small and midsize companies, earned media can be the catalyst for increasing website traffic, improving search engine optimization (SEO) performance, attracting new leads, and generating more sales.
What is earned media?
Earned media is organically acquired content or coverage a brand didn't pay for or create themselves.
Examples of earned media include:
Features
Guest posts
Interviews
Mentions
Reposts
Reviews
Why is earned media so important?
Have you ever seen a friend, family member, or someone you admire share a product they love on social?
Odds are, you have.
And, when you see them talking about their positive experience, do you do a little research of your own to learn more about that product?
Again, probably yes.
Whether you bought the product or not, the brand added a check in their "W" column.
That's because when people talk about your brand online, you expand your reach and generate awareness. And when you do that, you increase your odds of turning their interest into sales.
This is exactly what earned media can do for a brand.
Earned media, just like word-of-mouth marketing, is all about influence.
When people and publications talk about your brand (in a positive light) it's like a vote of confidence and shows that your efforts to create awareness around your brand were successful.
It's also a strong indicator of your brand's potential for inspiring fans, brand advocates, and future customers.
Not only does it contribute to your brand's credibility in your industry, but an organic feature or mention from the right influencer or publication can catapult your brand into a position of authority.
How can you earn media coverage?
As a company that specializes in press release distribution, our answer is obvious…press release distribution.
We're not talking about old-school press release distribution where hope was the strategy.
And by that we mean, you'd send a press release and hope the media would pick it up.
We're talking about press release distribution that's fueled by experience and expertise.
That's what our Media Advantage Platform (MAP) offers our clients.
Our Platform, Your Success
If you're unfamiliar with our MAP, here's a brief overview of the services our experts provide:
Create relevant content
Curate the right media lists and commercial targets
Distribute the right message through comprehensive press release distribution and commercial outreach
Pitch the media
Monitor and track effectiveness
Showcase the communications in a newsroom tailored to each individual client.
When developing and distributing campaigns for our MAP clients, it looks something like this (Note: this a high-level look at our process. If you want to learn more, reach out to a PR Strategist today):
Newswire and the client develop newsworthy topic
Newswire's team of expert writers craft the press release
Newswire sends the draft to the client for approval
Client approves and Newswire publishes the press release on the distribution channel that'll get the most traction
Newswire team creates customized and targeted media pitches on behalf of the client
Newswire shares a monthly report on campaign performance
Again, that was a basic description of our process. There's more behind-the-scenes collaboration.
For instance, our team works with our clients to build out a year's worth of newsworthy topics and we support those topics with valuable statistics, informative data and more.
Our targeted media and marketing pitches are created with an obsessive focus on relevancy and relationship building.
And, as an added benefit, we have former journalists on our team who understand what it's like to be on the receiving end of a media pitch. This experience helps us craft powerful pitches that encourage journalists to click, explore, and expound on our topics.
All of these steps work together to earn valuable and relevant media mentions for our clients.
In 2022, alone, our MAP team facilitated more 300 earned media mentions and counting for clients in top outlets such as Forbes, Wall Street Journal, Bloomberg, CNET, Medium and The Business Journals.
Consider the Source
Not all pick-ups are valuable.
Wait, what?
It's true. Not all pick-ups are valuable.
We've seen complaints about other press release distribution companies saying they receive pick-ups but they're not relevant and impactful.
When you receive those pick-ups, it's like getting handed a water cup in the middle of the desert with no water in it.
They lack substance and they don't add value.
This is why relevancy is a major factor in the legitimacy of the pick-ups and earned media mentions brands receive.
Sure, you're always going to have a few outliers when it comes to pick-ups, but at Newswire, our focus is on getting our clients earned media mentions in relevant industry publications.
Here are some examples of the earned media mentions we've secured for our clients in 2022 alone. Below you'll see the industry our client is in as well as the publication in which they were featured:
Industry: Market Research
Publication: CNBC
Industry: Beauty
Publication: Allure
Industry: Financial Services
Publication: Wall Street Journal
Industry: e-commerce
Publication: Forbes
Industry: Education
Publication: NPR
Industry: Entertainment
Publication: CNET
Industry: Healthcare
Publication: Bloomberg
Industry: Pharmaceutical
Publication: MSN
Industry: Technology
Publication: Fast Company
Industry: Real Estate
Publication: realtor.com

If you're ready to earn media mentions, grow your audience, expand your reach, and implement an effective go-to-market strategy, contact us today to learn more about our MAP.