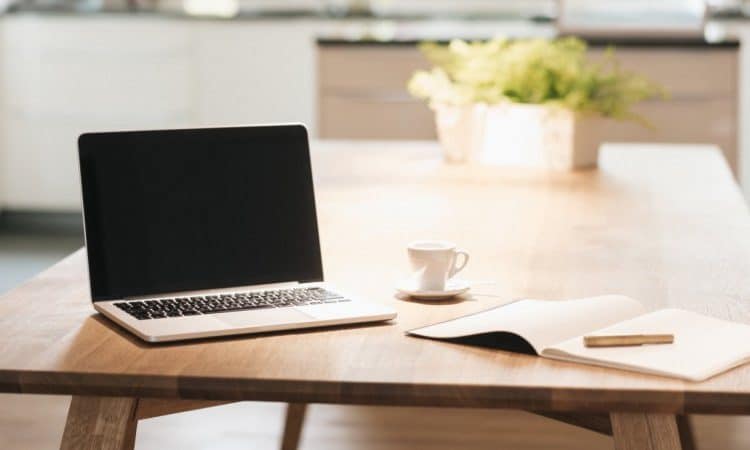 Working From Home – Is It The New Reality?
It's been about 8 years since I started working from home, and frankly, I can't even imagine going back to a typical office setting.
But the pandemic crisis is forcing most of us into flexible work arrangements. Companies have set up work-from-home initiatives, maintaining business continuity and productivity until the virus threat passes. Office workers, educators, and many others worldwide are dealing with the new reality of where they work — at home. People switch from offices to their living rooms, bedrooms, kitchens, and basements. Children run around the house while parents hold business meetings, and students attend online classes.
Remote work, teleworking or telecommuting involves some job arrangements in which the "job" is usually done in a physical office room – conducted either at the employee's home, a remote office or some other off-site venue. In our current situation, technology keeps all parties involved linked through a robust communications network. The company's task, however, is to keep workers thoroughly and consistently involved, allowing them to provide their input, understand what is planned, monitor closure schedules, and gain gratitude for the work they do. Also, managers need to have a straightforward, concise, and hands-off approach to communications, while ensuring that their activities comply with business objectives.
You might ask yourself: "Will this new setting work for me?" If you're a freelancer or an employee with the option of telecommuting, knowing a little about what you're getting into — the pros and cons, would be very helpful.
Working From Home: The Pros and Cons
You'll Be More Productive

:
Many telephone and cable providers have decided to give the public free use of the Internet. Many tech firms are growing their capacity to manage more data — information — from all of the new employees and students who have to work from home. And if you work from home, there can be plenty of distractions and challenges to deal with. Nevertheless, most people find that they're still more successful given these temptations than when they're working in an office. 77% of employees say their productivity improves when they work from home. Of course, this may vary, but realizing that increased productivity is a possibility is a good thing, particularly if you're trying to persuade your boss to let you try telecommuting.
Self Discipline is a Must

:
Being conscientious in taking care of your duties at work is essential to the success of any professional. However, you should bear in mind when you start working from home that such systems no longer exist to help you get your work done. Working from home means you will have to discipline yourself to work efficiently.
You might not work daily from 9-to-5 anymore. It's up to you to decide when you're beginning to work, when and how you're going to take breaks, and when you're going to call it a day, at least more than if you're working in an office. Homework seems to come a bit easier to organized and self-motivated people.
Some People Won't Understand You

:
When I first started working part-time from home, I loved the flexibility that came with it, including wearing pajamas, having lunch whenever I wanted, and talking to friends at my own time were all brand new freedoms that I enjoyed. But some people assumed that my flexible work schedule meant that I didn't really work. That had me do favors during the day — anything from running errands, babysitting and picking up packages. I agreed to all of those requests initially. Yet, I soon understood that I was going to spend my evenings and weekends trying to make up for it.
It was clear that I needed to make my family and friends aware that I still have a job. That there will be limits. By setting work from home boundaries, I have created an efficient workflow resulting in productivity during working hours.
When you're new to working from home, consider the fact that family and friends may not always understand that you're actually doing, and there can be a bit of learning curve for them.
You'll Become Protective of Your Time and Space

:
You have to handle your time and schedule a little differently when you work from home. Otherwise, you could end up spending your days running errands or other things without ever having any work finished. Don't be shocked if you are more closely managing your time than ever before.
When you work from home, your home office takes on a whole new level of significance. You may find that when your room is clean and ordered, you can be more productive and get more work done in less time. You may also find that you're not as comfortable as allowing anyone to play on your computer or be at your office. If you are telecommuting, it's reasonable to be a little more protective of your workspace.
Know When to Take a Break

:
You pride yourself on your flawless attendance record, the feeling that without you, everything will certainly not function well — but that's just not healthy. You just have to take a break, only one or two weeks at a time, or even for just a few minutes. Scheduling a break while you are working from home can be challenging. That happens for freelancers since time away means time without pay, which can be challenging to manage. Just as wearing appropriate clothes as you would in an office is necessary, taking breaks as you would in an office is crucial. Having a dedicated work area in your home is another advantage; when it is time for a break, you can leave and relax for a while in the kitchen or in the living room. Having a break clears your mind and gives you a new outlook, making a sharp distinction between "job time" and "break time," instead of allowing your day to blend in with your personal time. You can walk your dog, have a quick workout, get up from your desk at least once an hour. Grab some coffee or tea. Do some stretching.
Do your best to not answer emails or chats during weekends (or when it's your day off). Log off from your email or chat app and forget about it. Otherwise, you'll end up clicking on the links to the email and going down a rabbit hole.
Your work matters. Yet time off is just the same. Studies show that you need a break every once in a while to be at your best.
Work and Life Balance

:
Work-life balance is a term used to describe how employees allocate their time between professional and personal obligations. They can delegate their time when someone has the right work-life balance, so they don't overwork and concentrate on certain parts of their life, including family, friends, hobbies, or social events. One of the most significant advantages of working at home is having flexibility. Remote employees will take advantage of this with the freedom to work from anywhere, by working from home and developing a flexible schedule to take care of work and personal obligations. Working from home will make a big difference in your overall quality of life. Research backs this claim. Telecommuters say having started working from home, their stress levels fell by 25%. And, 73% said they had a better diet than when they were working in an office.
If you are only beginning to work from home, remember that everyone works differently, so finding a system that works best for you will take some time. Stay committed to your goals, and you will finally build a near-perfect framework. Good luck to you!