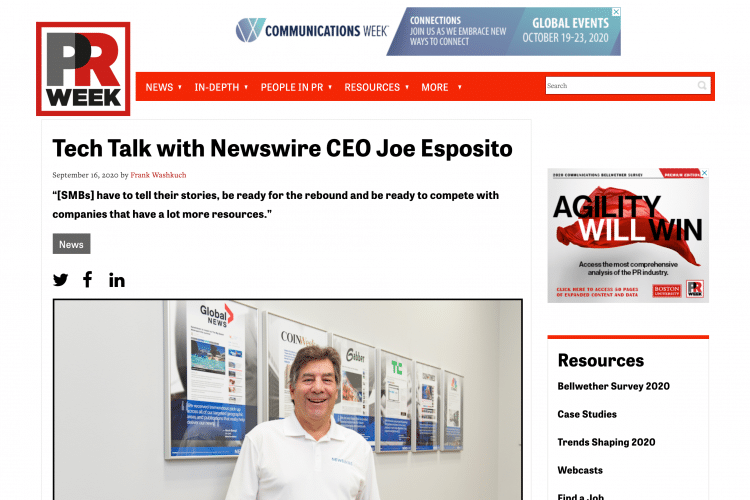 Newswire Featured in Tech Talk Discussion with PRWeek
In a new edition of Tech Talk with Frank Washkuch, Newswire CEO Joe Esposito sat down to discuss Newswire's progression in the industry and the effectiveness of its flagship service, the Earned Media Advantage Guided Tour.
The Earned Media Advantage Guided Tour was launched in August 2019 to help Newswire's customers enhance brand awareness, drive more web traffic, and receive better ROI on their media spend. The synergy with Newswire's technology and its team of expert strategists creates a high tech, high touch solution to empower SMBs to deliver results which allows them to complete effectively their respective industries.
Leveraging Technology for Media and Marketing
By converting owned media campaigns into earned media opportunities, businesses across all industries such as financial, healthcare, technology, and retail translate media coverage into improved brand recognition while simultaneously driving qualified leads to their respective sites.
In terms of measurement, Esposito spoke about the key performance indicators (KPIs) that CEOs of small to midsize businesses lock onto when evaluating the success of content campaigns.
"CEO's want real results. They want to be mentioned in the media, (want to) generate more leads, (want to) generate more sales, and they want to do that at a lower cost per new account. That's what CEO's want," said Joe Esposito, Newswire CEO.
With that, the Newswire team set out to deliver.
Delivering More with Less

By tracking instances of earned media coverage, engagements with media personnel, and qualified leads pulled from direct digital marketing campaigns, Newswire's team of Earned Media Advantage Strategists have been able to manage the media and marketing communications goals of a multitude of companies. This has allowed many CEO's to dedicate their time and resources towards other aspects of their business, as the delegation of responsibility has helped them focus on what it is that they do best.
Newswire customers have shared their results and experience on the program.

"We were able to rapidly and efficiently expand our media and marketing team without placing added stress on our existing staff," said Ken Sternfeld, Chief Pharmacist Officer and Founder, RXVIP Concierge.
"Newswire has been able to amplify our brand awareness, generate hundreds of leads within our target audience and establish a presence in the media for our company. We could not be happier with the relationship we have built with the Newswire team and the results we are seeing."
The Right Solution for Digital Transformation
As a company that is heavily active in the SaaS and B2B spaces, Newswire is familiar with the technology sector and has worked with a variety of tech firms since launching the Guided Tour program. With the COVID-19 pandemic having accelerated the digital transformation of the 21st century into a rapid adoption period for businesses and consumers alike, Newswire's team of strategists have worked diligently to help tech firms secure earned media mentions and qualified leads through targeted press release distribution and strategic outreach campaigns.
Many of Newswire's customers are able to experience the difference of the Earned Media Advantage within weeks of signing up for the program. The customerized, comprehensive Earned Media Advantage Plan crafted for each individual customer is implemented quickly to bolster existing media and marketing communications efforts and create new channels for exposure.
"I am thrilled with the results of the customized strategy that Newswire's team created for us. Within the first 60 days of signing up for the program, we generated multiple media mentions, hundreds of leads, and improved our SEO ranking. Newswire's team has effectively positioned SimplyRFID as an expert in our industry and we are looking forward to continued results," said Carl Brown, President of SimplyRFID.
When asked about Newswire's clients, Esposito emphasized the growing demand for e-commerce platforms across all major industries as well as Newswire's client base expansion over the past 12 months.
"We have about 10,000 clients at this point, and the sweet spot is technology. e-commerce is right there – and in large part due to the impact of COVID-19," said Esposito. "Largely our client base is private companies under $100 million in revenue, and we are now experiencing some positives in both financial services and public companies over the past year."
Newswire's ability to remain cost-efficient with the Earned Media Advantage Guided Tour program has proved to be beneficial for the company throughout the COVID-19 crisis.
Today, The Future and the Road Ahead
Thousands of small and midsize brands were forced to endure budget cuts, which led to countless rounds of layoffs and furloughs across the majority of the major U.S. industries. As C-suite executives attempt to navigate the new normal, challenges such as adopting e-commerce platforms, connecting with target audiences, and managing consumer expectations have all become increasingly difficult tasks, especially with limited access to human capital.
When asked about how the pandemic has changed your business, Esposito shared, "There have been a lot of furloughs at businesses and some of the small and midsize businesses have received [Paycheck Protection Program funding]. Some have not, and they have to do a lot more with less."
Newswire has positioned the Guided Tour program as an efficient media and marketing communications utility within the market, which has drawn the attention of brands looking for alternatives to hiring new talent. Because Newswire's team of Earned Media Advantage Strategists work as extensions of in-house teams, executives can receive the combined benefits of Newswire's powerful technology and industry expertise at a fraction of the cost of leading competitors.
Through its best-in-class science, process, and technology, Newswire's Earned Media Advantage Guided Tour is able to help businesses distribute the right message to the right audience at the right time. To learn more about the Guided Tour program and how you can achieve the benefits of the Earned Media Advantage, please visit www.newswire.com.