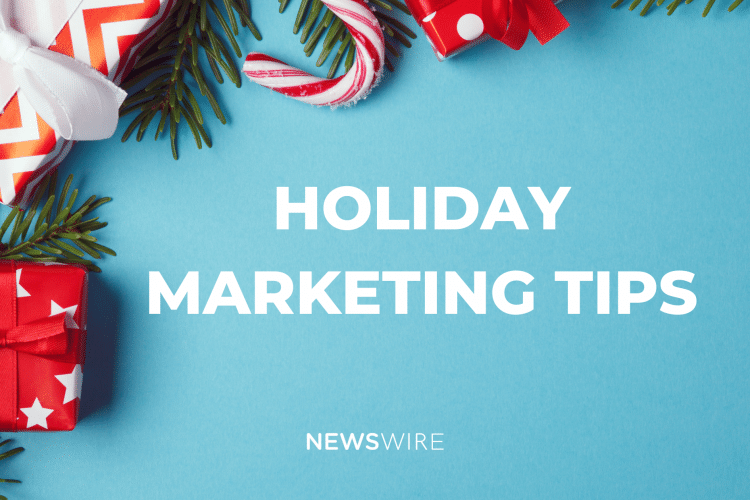 17 Holiday Marketing Tips That'll Put Your Brand on the Nice List
Does your company have a holiday marketing strategy?
Whether your answer is yes or no, in order to capture the attention of your target audience you'll need to step into their shoes, understand where they're focusing their attention during the holiday season, and craft a holiday marketing strategy accordingly.
Start the process by answering the following questions:
What's your target audience interested in during this time of year?
What questions are they asking?
What problem(s) does your product/service solve?
What's the best channel to connect with them? (Press releases, social media, email, direct mail, etc.)
How can you use trending topics as prompts to create educational content?
What messaging tone resonates best?
Your answers are like pieces of a puzzle. Put them together to create a customer-focused strategy that'll maximize your holiday marketing budget and brand messaging.
If you're still feeling like Santa in a small chimney — stuck — then we've got the perfect holiday gift for you!
From an emphasis on storytelling to the timeliness of your press release distribution and everything in between, our team of experts have boxed up, wrapped, and put a bow on their best holiday marketing tips.
Enjoy!
"I hear all the time that news coverage or major announcements face a black hole for visibility between Thanksgiving and the end of the year, but I don't believe that is the case. With people traveling, shopping, and spending more time at home during the holiday season, I find that we are able to land impactful media coverage that generates more attention during this time of year than any other. If a company has something newsworthy to share, consider doing so now as opposed to waiting for the first week of January when a lot of other companies are waiting to share their news!" – Charlie Terenzio, CMO & SVP of Media and Marketing Communications
"Timeliness is a key component of any press release, and it's even more relevant around the holidays. Don't be the person who has holiday-themed promotional material still running after the New Year! Have a clear and organized campaign calendar tracking which pieces are running when and where. Most importantly, don't send out news- or business-focused press releases when people are likely to be out of the office. Instead, target them a couple of days before major holidays hit, so your message lands before vacation brain sets in." – Olivia Savage, Director of Product Marketing
"Practical advice is shareable advice. Around this time of year, especially, the media are looking for actionable advice they can share with their audiences. To become a go-to source of knowledge, think of frequently asked questions your business receives and create content accordingly. Pitching your best tips and advice can help you land media coverage that'll position your brand as a thought leader and expert in your industry." – Maria Marchewka, Digital Marketing Strategist
"Breaking through the holiday clutter can be difficult, especially in a fully digital world. Published PR and earned media opportunities are a great way to wrap up the year without losing momentum. Even when people are traveling and on holiday break, they are still checking social media and news outlets on their phones to stay updated. Keep your holiday content relevant and you can still see engagement during the holiday season!" – Alexis Quintal, Media & Marketing Director
"With many opportunities for giving activities around the holidays, this time of year is perfect to get the news out on corporate social responsibility campaigns. Highlight ways you're giving back to the community to spread joy and touch the lives of people you serve." – Buse Kayar, Campaign Manager
"This is a great time to start crafting an action plan for the next year by looking at upcoming trends and implementing them into your strategy. Stay ahead of the pack and consider positioning, engagement, and goals to ensure you are off to a great start after the holiday season." – Madeleine Moench, Campaign Manager
"Many brands are worried about positioning during the holidays as they look to share impactful news and narratives with everything surrounding the year-end rush. Keep the story focused on human interest. Why does your brand matter to your community and why now? It's important to put your audience at the core focus of your story and understanding what they want to read and share during this special season will help you deliver the right message at the right time to the right people." – Tiffany Kayar, Media & Marketing Director
"A holiday season announcement should be focused on timelessness with a twist. Compose a message that lets readers know that yes, your company matters year-round, but it matters particularly more this holiday season. It's a chance to build on current messaging by highlighting the existing value and adding a little extra joy, festivity, care, and compassion into your brand!" – Maria Penaloza, Campaign Manager
"You can barely turn on the TV now without finding a Hallmark movie or some holiday episode, and what that tells us is that this time of year, people love a positive story– emphasis on the story. Find those good things your team does, and go the extra mile by telling the story behind them. That creates a memorable engagement that will last beyond the holiday season." – Dave Gulliver, Content Strategist
"Keep it consistent. Ensure you are maintaining brand presence throughout the holiday season by using your tools to schedule posts and press releases in advance. Use the downtime to create assets and strategize a social plan to help build your media presence for the upcoming year (or quarter)." – Jessica Lombao, Campaign Manager
"By embracing diversity, expressing appreciation, applauding differences, and treating people with the respect they deserve, your brand will naturally stand out amongst the competition. A timely, thought-provoking press release is the perfect way to share your humanitarian efforts this holiday season, and Newswire is here to help you do so."– Savannah Muir, Media & Marketing Strategist
"With the ever-increasing competition around the holidays, it's important to make a campaign stand out. Instead of going with a mass holiday marketing approach, make the messaging feel personal. This is a perfect time of year to learn more about your target audience. One way to track attention around this time of year is to tailor messaging through targeted media segmentation and multi-network distribution to ensure your press release is distributed to the right audience and the right time." – Alexandra Batista, Campaign manager
"Talk about what you believe in! Companies should reinstate their core values and let their clients know they stand for something around the holidays. The more authentic the content you are putting out is, the more authentic and engaged your audience will be."– Bianca Facey, Media and Marketing Strategist
"Organization is a top priority, especially around this time of year. Stay on top of your projects and stick to deadlines to keep your team on the same page. Remember, no detail is too small. Though it's a busy season, pay careful attention to the planning stages. Make sure every asset, piece of content, and strategy is in place. The more organized you are, the less energy you'll waste worrying and instead can use it to enjoy the holidays!" –Kim Adams, Project Manager
"As the year comes to a close this is a perfect time for a recap press release. It's a great time to remind people of major accomplishments from the year. This will get readers excited for what's next! Get a head start as many companies will be waiting until after the first of the year to share information. Be sure to summarize goals for the new year." – Katie Snell, Campaign Manager
"Focus on delivering a unique and memorable customer experience. The holidays can be a great time, but they can also be the source of considerable stress. Showing your visitors appreciation through a thoughtful, user-friendly shopping experience can go a long way in turning a one-time customer into a lifelong supporter." – Antonio C., Content Marketing Manager