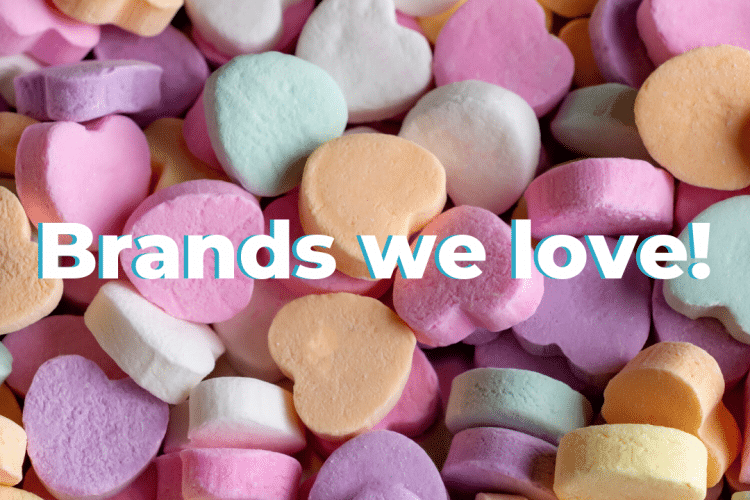 Brands That Make Our Hearts Skip a Beat
Have you ever seen a social media post, advertisement, or marketing campaign that caught your attention and made you stop your scroll?
Or, maybe you've found yourself saying, "I wish I thought of that!"
Either way, when done correctly, advertising and marketing campaigns have the power to stir emotion within us.
And when we feel something, we typically share it with others to create a sense of connection.
With Valentine's Day around the corner, we asked some of our team about the brands they love. Whether it was a singular social media campaign, their overall presence on a platform, or their seemingly effortless approach to building a digital presence, we wanted to know what made their marketing hearts skip a beat. 
Enjoy!
Maria Marchewka, Senior Manager of Brand Marketing – Peloton
One of my favorite brands to follow on Instagram is Peloton (@onepeloton). Whether it's showcasing their customers' photos of their at-home set-up or getting their instructors involved with content, Peloton's Instagram presence is a healthy mixture of motivation and conversation. This balance highlights their commitment to building a community through their brand. And, as a person whose job is focused on social media, I applaud their ability to create a space where people from all over the world can go to share their experiences and motivate others to keep pushing to achieve their goals. A recent campaign I love is their #peopleofpeloton series. It highlights real customers and their stories and their connection to the Peloton brand and its products.
Olivia Savage, Director of Product Marketing – Wendy's
I love it when brands aren't afraid to break social media tradition and really let their personalities shine. Wendy's (@wendys) made some serious waves a few years ago by turning their Twitter account into one long roast, hilariously insulting both competitor brands and individuals who dared to 'at' them. It not only generated an amazing amount of traffic, engagement, and brand awareness, but it also created space for them to be 'professionally unprofessional.' This isn't an appropriate approach for everyone, but it's an excellent example of how to differentiate yourself and proves that breaking the mold can yield very positive results."
Antonio Casal, Content Marketing Manager – Duolingo
@DuoLingo and their brand mascot Duo the Owl have created one of the best brand origin stories on TikTok. In just a few months, they've grown their follower base from 100,000 to over 1.7 million while earning over seven million likes and a 19% engagement rate. For the brand managers and digital marketers that follow the numbers, this is an absolute home run.
With Duo's unhinged, off-the-wall content, the DuoLingo team has managed to earn the #1 spot as the most downloaded education app in the Apple App Store. Their strategy shows that for niche companies (even on a 'dancing' app), sticking to a coherent strategy, following trends, and trusting the process can help connect your brand to new audiences just waiting to be engaged.
Tiffany Kayar, Media & Marketing Director – GIMME Beauty & U.S. Polo Assn.
(@GIMMEBeauty #NoBadHairDays) Brands who care about the community and who speak to their audiences the way they want to be spoken to. GIMME Beauty partners with trusted voices of their community by sharing their vision and products with influencers, content creators, people who are in touch with their followers and have their pulse on curating trends.
U.S. Polo Assn. is all about giving back through charitable initiatives that support the sport and its players. The most inclusive game on and off the field, USPA outfits competitive collegiate polo players through its nationwide Collegiate Partnership Program (CPP) for the 2022 Collegiate Polo Season – this year partnering with a record 48 collegiate teams. Through this program, U.S. Polo Assn. will provide student-athletes with complete game attire that includes performance team jerseys, white playing pants, polo shirts, caps, and equipment gear bags as well as a monetary donation. There will also be a "Collegiate Content Contest" where teams will have the opportunity to win additional prizes for their creative social media posts.
Savannah Muir, Media & Marketing Strategist – Sand Cloud
Every day, approximately 8 million pieces of plastic pollution find their way into the oceans. Sand Cloud (@sand_cloud) is turning this used plastic into products designed to help preserve the oceans, while also donating 10% of their profits to marine life conservation. They focus on sustainability, promote diversity in their social posts and encourage traveling with a purpose. Sand Cloud has very clever, seasonal messaging (ex. Love is in the sand), a positive environmental impact, and a unique assortment of bath and beach towels, blankets, reusable water bottles, clothing, and travel essentials. As an avid explorer and lover of animals, I am a huge supporter of Sand Cloud's mission and proudly own several of their beach blankets.
Kim Adams, Project Manager – Betches
Betches social media keeps it real. Betches is a female-founded and led media and entertainment brand that provides a space for all women to get real about life – funny, honest, & unfiltered.
Buse Kayar, Media Strategist – Trader Joe's
Trader Joe's (@traderjoes) appeals to a range of people with its unique offerings. It's known for its organic and eco-friendly products. You can also find things for very good prices. I love to follow them on Instagram because their posts are very original and cute. From their store decor, product branding with creative graphics, their sustainable policies, and their Instagram page, they've really thought of everything. It definitely draws in the health-conscious customer and has the friendly vibe of a neighborhood grocery store.