Zonopact Innovation Lab (ZLab) to Conduct Innovation Camp in New York
Press Release
•
updated: Feb 11, 2017
One Day Hands on Program For Aspiring Innovators and Entrepreneurs Packed with Brainstorming, Idea Generation, Problem Solving and Prototyping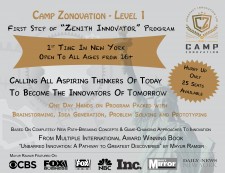 Boston, MA, February 11, 2017 (Newswire.com) - The main mission of innovator and inspirational speaker Mayur Ramgir is to create a brighter future for coming generations. Zonopact Innovation Lab (ZLab) was created to provide people space which is free of walls, has no age restrictions and is manned by some of the brightest minds in the business and scientific community. In a bid to continue these efforts and to raise awareness, ZLab has announced that it will conduct an Innovation Camp in New York on the 18th of February.
The Innovation Lab is designed as a unique organization that brings together ingenious minds and business leaders, who might be interested in investing in their ideas. The main aim is to bring together individuals who wish to encourage new minds in exploring their potential, and coming up with ideas that can make an impact, on the world in general and their society.
Calling All Aspiring Thinkers Of Today To Become The Innovators Of Tomorrow

Mayur Ramgir, President & CEO, Zonopact, Inc.
This camp is the first step of the "Zenith Innovator" program and will involve brain storming sessions, idea generation, problem solving, and prototyping sessions.
When asked to elucidate the idea behind the lab, Zonopact CEO Mayur Ramgir had this to share, "The mission was to make Zonopact more than an IT company so we decided to create services that not only help businesses, but also innovators in the making. For that purpose Zonopact's Innovation Lab was designed to be more than your average think tank – we are focused on open innovation. The result is a single productive space that is free of walls and enclosures. That's because boundaries are contrary to the whole concept of innovation."
"Our aim in New York will be to create awareness of this concept while attracting more people to take part. The platform is made for masterminds to come and fulfill their curiosity and put forward ideas they aspire to see in reality. Our goal is to encourage such budding innovators by connecting them with aspiring and successful individuals who can guide them in realizing their true potential. We nurture those minds through educational programs and by providing them a startup accelerator that can allow them to bring their ideas into practical use."
The Innovation Lab will be conducted from 9 am till 5 pm on the 18th of February in the city and will be open to those who register. Online registration is now open. Please visit https://www.zonopact.com/zlab/czny
About Mayur Ramgir
International Award-Winning Author, entrepreneur and innovator, Mayur Ramgir is a leader in the business world and an inspirational speaker. He is also a prolific business writer who has won several book awards for his innovative books along with 5 star reviews from inspired readers. Ramgir is also best known as a mentor and experienced business consultant, who has helped countless entrepreneurs take their business to the next level, which range from finance and health to cyber security and eCommerce.
Zonopact Innovation Lab's mission is to bring established and influential leaders on the same platform and where they can put their energy and experience to the best use possible.
Source: Zonopact, Inc.
Related Media