Shark Tank's Original Shark and Inventor of the Infomercial Kevin Harrington Has Only Good Things to Say About Clintra
Top American Entrepreneur Kevin Harrington and Zonopact CEO Mayur Ramgir discuss Clintra on Game Plan
Press Release
-
updated: Nov 21, 2016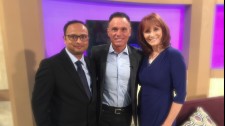 Boston, MA, November 21, 2016 (Newswire.com) - Aspiring business owners know that in today's business environment, they need more than an idea, they need a game plan. That is the theme of the show Game Plan hosted by Vonabell Sherman and which recently featured celebrity business executive and top American entrepreneur, Kevin Harrington along with entrepreneur guest and owner of Zonopact, Mayur Ramgir. 
Original Shark of Shark Tank, Kevin Harrington is also a co-host on Game Plan, a show that places particular emphasis on its guest's business game plan and how to take their business to the next level. Harrington's fellow host, Vonabell Sherman is best known for her role as an on-air guest since 2001 and during her career, she has presented a wide range of home and family products. She is also a member of the National Association of Professional Organizers and honed her presentation craft while working in the sales and marketing team of Al Scuttle.
When asked about the significance of the show, Sherman had this to say, "We are here to build businesses and that is what Game Plan is all about. It is more than just a simple talk show. Our guests receive business advice from the King of Infomercials himself, Kevin Harrington and our tag team efforts give entrepreneurs the knowledge and advice they need to enhance their businesses step by step. "
"One of the important things when you are building a business is to have great, innovative software. This includes providing a place where your customers can have a conversation with you and it is so key to have that great software. Zonopact has created an ideal software for this and one which we are proud to feature at Game Plan where we are always in search of business innovations that can facilitate budding entrepreneurs."
Harrington expressed his admiration for Ramgir's latest innovation, Clintra, a cloud based business management tool that is a comprehensive suite of diverse apps which can be customized to meet organizational needs.
After hearing Ramgir explain his invention, Harrington had only good things to say, "What I like about it is that it all integrates together. A lot of times, you try to integrate one management system with another like a CRM and a project management system only to find out they do not work together. Clintra closes that gap by design since it allows those applications to work through one source and thus makes them fit together quite nicely."
Harrington also asked how Ramgir was marketing the product to which Zonopact's owner revealed that it is being promoted to small to medium businesses since they have limited resources and fixed budgets. By subscribing to Clintra they will have enough cash to spend on operation critical resources which can help them meet important KPIs and ROIs.
Clintra has a feature-rich forever free version for up to 10 users, that is ideal for start-ups and small businesses. Their enterprise version, which allows more users, contains more advanced features for growing and established businesses, offers a generous one month free trial. 
About Mayur Ramgir
International Award-Winning Author, entrepreneur and innovator, Mayur Ramgir is a leader in the business world and an inspirational speaker. He is also a prolific business writer who has won several book awards for his innovative books along with 5 star reviews from inspired readers. Ramgir is perhaps best known as a mentor and experienced business consultant who has helped countless entrepreneurs across multiple industries, ranging from finance and health to cyber security and eCommerce, take their business to the next level.
Source: Zonopact, Inc.
Share:
---
Categories: Celebrities, Business News, Business
Tags: Business, Clintra, Game Plan, innovation, Kevin Harrington, Leadership, Mayur Ramgir
---