YogaBerries Fashion Show at LaCumbre Plaza in Santa Barbara, California, YogaBerries is a Fashion Brand
March 18th, Saturday at 11 a.m. Kids Expo sponsored by Parent Click, YogaBerries is a high-quality clothing line made in the U.S.A. with Mommy and Me matching prints. Valerie Pike is a certified Yoga Instructor, Mini Yogis and Yoga Works 200 hour Registered Yoga Teacher. She is also the producer of Deep Blue Sea Yoga DVD. Her pants are comfy to wear during meditation.
Press Release
-
updated: Mar 14, 2017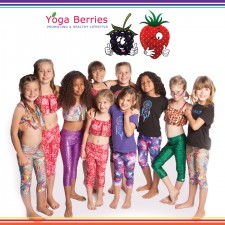 Santa Barbara, California, March 14, 2017 (Newswire.com) - What do the YogaBerries and the Taylor Swift Song Red having in common? Come and find out at the Upcoming Event of the one and only YogaBerries Fashion Show by producer Mystic Sea Productions and the Creator and Designer of the YogaBerries Fashion Brand clothing line for Women and Girls! Be sure to Mark your Calendar for the Magical day after St. Patrick's Day!!
Come and see the YogaBerries international smiles at the Kid's Expo in Santa Barbara March 18th, Saturday from 9:30 to 2p.m. at LaCumbrePlaza hosted by Parent Click to see the 20 minute YogaBerries Fashion Show at 11 a.m. sharp. Come and see their newest Sparkly Spring Fashions that are great for Hip Hop, Dance, Aerial Yoga, Gymnastics they even go great under TaeKwonDo uniform! 
YogaBerries is sold on Amazon.com and Amazon.ca in Canada. You can see her website at www.theYogaBerries.com. With more and more schools across the United States teaching yoga at schools Ms. Pike's niche product has become a necessary item to have. It isn't comfortable to do yoga in jeans. The YogaBerries are all about Diversity also. The will be having a Be a Buddy not a Bully printed with their YogaBerries characters MacBlack the Blackberry and Rojo the Strawberry on a t-shirt this summer for an anti-bully campaign. 
The YogaBerries will also be modeling their wolf print pants. They are wolf advocates and traveled to Big Bear Lake with Ambassador Journey the Wolf.  Their ultimate goal is to save these great animals from extinction.  The YogaBerriesGuru will also be selling their Yoga DVD's Deep Blue Sea Yoga and Rainforest Adventure Yoga with the Traveling YogaBerries.  By purchasing their dvds you will help support the care of sea life and care for rescued animals. Their website is www.theYogaBerries.com
You can follow the brand on social media
 YogaBerries Yoga Pants Facebook page
Instagram @YogaBerries
Twitter @YogaBerriesGuru
​About Valerie Pike​
Valerie Pike also has a cookbook she has published called Delicious Temptations from the South. 224 pages of Home-Cooked secrets from a true Southern Belle.  Available at Barnes & Noble and Amazon.com. Ms. Pike also has a kid's book called Ozzy the Octopus learns about Tingshas. She is also the author of the Crimson the Dragon's Adventures book series Valley of Rubies is her 2nd book in the series. You can view her books at www.CrimsontheDragon.com
Source: YogaBerries
Share:
---
Categories: A&E News, Entertainment, Fashion and Apparel, Fashion, Lifestyles, Textiles, Live Performance, Arts and Entertainment
Tags: active wear, country western, cowgirl, leggings, leggings for girls, leggings for women, mermaid, western, wolves, workout, yoga, yoga pants
---