Dragons & Princess Teach a Lesson in Karma in Award Winning Author, Valerie Pike's "Crimson and the Battle of Lonely Mountain"
Calling all Dragon and Princess Lovers! A Family Friendly Book Just in time for the Summer.
Press Release
-
updated: Feb 3, 2017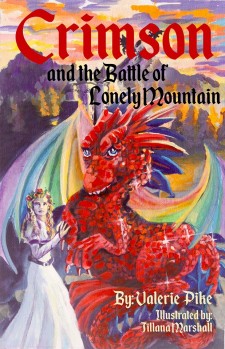 Ventura, California, February 3, 2017 (Newswire.com) - Author, Valerie Pike, has released her audio book, Crimson and the Battle of Lonely Mountain, narrated by Tracy Turner, on Author's Republic Platform.
Distribution through Amazon, Audible, iTunes, Findaway, and Audiobooks.com will begin on February 9, 2017. The book includes 10 chapters in 47 minutes; it is the first in a fantasy/adventure and romance series for boys and girls ages 5 to 10.
Ms. Pike is adapting the book into a play for children's theaters. It has 12 characters and takes place in the Land of Dragons during Renaissance Time, with the setting in the Kingdom of Nosmir, a place of snowy peaks like the Himalayas, and dramatic seascapes like Iceland or Norway. The lesson is Karma and the theme is to love and be loved.
Valerie will be at the Arizona Renaissance Festival on Tuesday, February 28th from 9 a.m. to 2:30 p.m. for Student Days, and will be signing books at the Ann Chamberlin bookstore.
About the Author
Author, Valerie Pike, is a Creative Writing Award Winner in Adult Fiction of the Art Tales Contest 2013 with her short story, The Ventura Pier at Sunset. Ms. Pike was born in Little Rock, Arkansas and now lives in Ventura, California.
Adventure and Romance lovers can also buy Crimson and the Battle of Lonely Mountain on Amazon.com, Kindle, Nook and Barnes & Noble online. Mrs. Pike's website is www.CrimsontheDragon.com.
Author's Republic the publisher of the audio book's website is www.AuthorsRepublic.com. You can listen to the 49 minute book at this link.
http://www.audiobooks.com/audiobook/crimson-and-the-battle-of-lonely-mountain/283707
Source: Authors Republic
Share:
---
Categories: Books, Writing, Arts and Entertainment
Tags: chapter book, childrens book, Crimson, Crimson the Dragon, Dragon, Dragons, Fairy tale, fantasy, fantasy book, kids book, middle grade, Princess
---