Woman-Owned Business Cali'flour Foods Has Had Incredible and Rapid Growth, Bringing in $4 Million in Sales in 10 Months
Press Release
•
updated: Nov 10, 2017
Launched March of 2016, Cali'flour Foods is a pioneer in offering cauliflower pizza crusts as a healthy and delicious alternative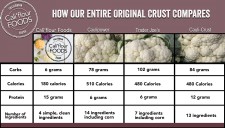 CHICO, Calif., November 10, 2017 (Newswire.com) - Entrepreneur Amy Lacey didn't set out to create a movement, but that's exactly what she did when she launched Cali'flour Foods. The company's cauliflower pizza crusts have developed quite a following coast to coast with celebrities, families and individuals training to find healthy alternatives for their favorite foods. The woman-owned business has seen steady and rapid growth, garnering $4 million in sales in just 10 months.
Cali'flour Foods is a pioneer in their industry, and even as other companies have followed, they continue to stand out above the rest. The reason is simple ingredients, incredible nutritional value and the taste and texture. Cali'flour Foods crusts are fresh, straight from farm ingredients and are a fully baked product from the company's oven to its customers.
Compared to other similar cauliflower crusts, Cali'flour Foods crusts are significantly lower in carbs (6 grams) and calories (180), higher in protein (15 grams) and made with only four simple ingredients – cauliflower, fresh cheese, eggs and spices. Other brands on the market have anywhere from 78-102 grams of carbs and 480-510 calories. They also have significantly less protein at just 6 grams and are made with more ingredients, including corn.
Cali'flour Foods currently offers four different kinds of pizza crusts. The original Italian Cauliflower Pizza Crust offers a proprietary blend of cauliflower, cheese, eggs and spices. The Sweet Red Pepper Cauliflower Pizza Crust has the same base, but with a sweet red pepper blend and a hint of garlic. Their newest product just launched - a spicy jalapeno that is already getting rave reviews. Cali'flour Foods also offers the only plant-based cauliflower crust available on the market.
"When I started Cali'flour Foods, it was to satisfy my own desire for a healthy alternative to foods I enjoyed but could no longer eat because I was diagnosed with an autoimmune disease and it caused inflammation," says Lacey. "I had no idea that by bringing healthier but still tasty options to the marketplace, that I'd be impacting so many lives and starting this national movement. It's really been tremendous the response we have received. I am incredibly grateful."
Those looking to try the cauliflower pizza crusts can find Cali'flour Foods at local retailers nationwide or can order directly on the company's website with nationwide shipping. To learn more and make a purchase, visit CaliflourFoods.com.
About Cali'flour Foods
Cali'flour Foods offers a healthy alternative to traditional pizza crusts. For more information, visit CaliflourFoods.com and for Cali'flour Foods-branded items (100% goes to charity), visit CaliflourCares.com. PR Contact - Rachel O'Rourke rachel@califlourfoods.com
Source: Cali'flour Foods
Related Media