Cali'flour Foods - the Original Cauliflower Pizza Crust - is the Healthiest Pizza in America
Press Release
•
updated: Feb 26, 2018
Made with four simple ingredients, Cali'flour Foods' cauliflower pizza crusts are lowest in carbs and calories and highest in protein.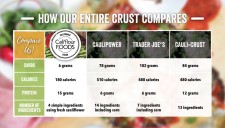 CHICO, Calif., February 26, 2018 (Newswire.com) - ​​​​​​​​​​​​Named one of the "Top 5 Coolest New Finds of 2017," Cali'flour Foods has created a gluten-free cauliflower pizza crust that not only tastes great, but that's healthy too. In fact, it is the healthiest pizza in America. Made with four simple ingredients, Cali'flour Foods' cauliflower pizza crust is lower in carbs and calories and higher in protein than three leading brands of cauliflower crust. Cali'flour Foods' hand-crafted, artisan style flatbread is locally sourced cauliflower and spices, and it is ideal for those looking for low carb and vegan food options. It's also a great way to get kids to eat their vegetables.
In the U.S., the pizza industry is a $45 billion business, and the diet industry is an $80 billion business. Also, 350 slices of pizza are eaten every second. It's no wonder the #1 "cheat meal" of diets across America is pizza. It's also no coincidence that, when it comes to pizza crust alternatives, there is no shortage of options. Consumers can find gluten-free crusts, crusts with vegetables, and even low-carb pizza crusts, but finding one that tastes good too can be a challenge. Enter Cali'flour Foods cauliflower pizza crust, the healthiest pizza crust in America, based on nutritional facts.
It has become trendy to eat healthy, creating a side-effect issue. People want to be educated on how to choose the right foods to meet their individual dietary needs and preferences. With a demand for healthier food choices, more and more products are entering the market, but so-called healthy foods aren't always nutritiously balanced or flavorful. People want to eat healthfully without feeling deprived. They crave good tasting, healthy alternatives. Cali'flour Foods cauliflower pizza crusts are an exception to the rule. They look good, taste good and are good for you.
In full transparency, Cali'flour Foods created this chart to show how their product stacks up against the competition. Every day, people share on social media that they bought a cauliflower pizza crust to incorporate in their low-carb diet...but it wasn't a low-carb product they were sharing.
Consumers don't always read nutrition labels, and some assume that because one crust is low in carbohydrates, then all cauliflower crusts must be too. As seen from the chart, this is not the case. By educating healthy eaters on these differentiating factors, they will become more cognizant of all nutritional labels and understand that, just because a product may seem healthier, doesn't mean it fits into their specific dietary desires or needs.
When it comes to pizza crusts, it's not easy to find an option that can meet each of the following:
Low Carb
Low-Calorie
High protein
Minimal Ingredients
It's even harder to find a pizza crust that addresses these needs of
People with Diabetes
Those who suffer from autoimmune diseases
People with a gluten intolerance (celiac or otherwise)
People who want to be able to pronounce the ingredient list in their food
Those looking for a plant-based (vegan) crust
With Cali'flour Foods, consumer can meet all of these needs with a great-tasting cauliflower pizza crust. Ask any one of their half a million followers or customers. Cali'flour Foods cauliflower pizza crusts are the highest reviewed crust on the market, and that speaks volumes for their popularity. So, are Cali'​flour Foods crusts the healthiest pizza crust in America? Some would dare to say they may just be the healthiest in the world.
Consumers can find these low-carb cauliflower crusts in select retailers and online at www.califlourfoods.com. It's time to take back pizza night – without the pizza hangover.
Media Contact: Rachel O'Rourke rachel@califlourfoods.com
Source: Cali'flour Foods