Introducing Cali'flour Foods' Latest Creation: The Collagen Wrap
Press Release
•
updated: Jan 17, 2018
First of its kind - Paleo - Gluten-free - Keto-friendly - and delicious!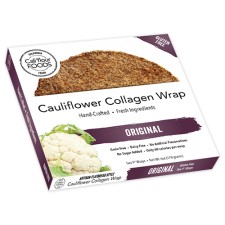 CHICO, Calif., January 17, 2018 (Newswire.com) - The food industry is booming with the world's cleverest healthy replacement products and Cali'flour Foods may have just changed the deli industry for good. Since the dawn of the gluten-free revolution, consumers have been changing the marketplace by demanding alternatives to the simple breads that have been a staple for years. However, it's been no easy task to reconfigure wheat-less versions of our favorite sandwiches. Lettuce wraps are a good start, but lacking.
Cali'flour Foods, the mother of cauliflower pizza, has just released another ingenious product. Presenting: the Collagen Wrap. The perfect replacement sandwich wrap or tortilla that is paleo and low-carb. This new product is a simple yet perfect combination of cauliflower, collagen, egg, chia flour and a pinch of salt produced in a specific way to create the exact proportions needed for the perfect size and structure. Finally, the days of sandwich sorrow are over and a new era has begun!
Cali'flour has been experimenting with the goal of creating a dairy-free and Keto-friendly wrap for quite some time now. After multiple trials with many different ingredients and hours of research into what makes a wrap taste good and hold together, the development team finally manipulated a precise ratio of collagen to cauliflower in order to achieve not merely a gluten-free product, but one with massive benefits as well. The new Collagen Wrap provides a substantial punch of protein from the collagen, an impressive list of nutrients from the cauliflower and a healthy dose of the right fats from the egg.
For more nutritional information and to find out where to buy this innovative new product, visit Cali'flour's site at califlourfoods.com and check out their product page. Cali'flour Foods has been a leader in the cauliflower movement since 2015 and is proud to be a part of the change. Follow them on Facebook, Instagram and Twitter or contact them at:
Rachel O'Rourke
rachel@califlourfoods.com
503.660.7196
Source: Cali'flour Foods
Related Media