Cali'flour Foods Cauliflower Pizza Crusts Just Hit Broadway With a Fun Pizza Party With the Cast of Hamilton
Press Release
•
updated: Oct 25, 2017
Hamilton's cast and breakout company Cali'flour Foods team up together to have the hippest (and healthiest) pizza party NYC has ever seen.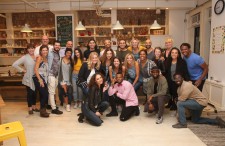 Chico, CA, October 25, 2017 (Newswire.com) - News about breakout company Cali'flour Foods has hit the east coast in a big way. The cast of Broadway's smash hit Hamilton raved so much about their love of Cali'flour Foods Cauliflower Pizza Crusts, the company set them up with their own private pizza party. Cast members love the taste and texture of the pizza crusts, and the low-carb, high protein macro-nutrient combo is perfect for anyone who is looking to stay trim and healthy.
"We are so excited to have participated in this hip and healthy pizza party with the cast of Hamilton," says Amy Lacey, founder of Cali'flour Foods. "It was an honor to have the cast so excited about our Cali'flour pizza crusts. Our pizza crusts are a healthy option favorite food for so many, especially those in New York City."
Lacey is the owner and creator of Cali'flour Foods. After being diagnosed with the autoimmune disease Lupus, Lacey tracked what foods did and didn't trigger her inflammation. She started creating alternatives of favorite foods so that she could enjoy eating without fear. Cali'flour Foods is Lacey's commitment to good health, driven by her desire to help others with similar food restrictions in order to bring healthier but still tasty options to the marketplace.
Cali'flour Foods crusts are made with fresh straight from the farm ingredients and are a fully-baked product from the company's oven to the customer's. The crusts have been used for more than just pizza, to include sandwiches, quiche, taco shells, and more. The buzz about the company and their popularity has been growing. Earlier this year, they won the Clean Choice Award in "Top 5 Coolest New Finds of 2017".
The company currently offers three different kinds of pizza crusts. All of the crusts are gluten-free. The Original Italian Cauliflower Pizza Crust offers a proprietary blend of cauliflower, cheese, eggs, and spices. The Sweet Red Pepper Cauliflower Pizza Crust has the same great foundation with additional delicious spices. Each of these crusts counts as 6 Weight Watchers points for the entire crust! The company's newest Plant-Based Cauliflower Pizza Crust is 100% Plant-Based, contains no eggs or dairy, and is only 8 Weight Watchers Points.
The cauliflower pizza crusts are available at national retailers and available on the company's website with nationwide Free shipping for orders over $50. To learn more and make a purchase, visit califlourfoods.com
About Cali'flour Foods
Cali'flour Foods offers a healthy alternative to traditional pizza crusts. The company offers three different kinds of cauliflower pizza crusts. For more information, visit califlourfoods.com. For more information on how Cali'flour gives back visit califlourcares.org to purchase Cali'flour Foods merchandise.
Media Contact: Rachel O'Rourke Email: rachel@califlourfoods.com Phone: 503.660.7196
Source: Cali'flour Foods
Related Media