WiseTREND OCR & Data Capture, Inc. Launches Redesigned Website to Debut New Industry Solutions
Press Release
-
updated: Nov 9, 2017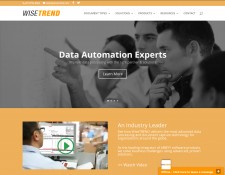 SAN FRANCISCO, Calif., November 9, 2017 (Newswire.com) - WiseTREND (www.wisetrend.com) is a trusted innovator in the world of ABBYY OCR (Optical Character Recognition) software, document automation, classification and data extraction software. Now, they have re-branded the WiseTREND website to answer all questions on the latest technology, integrated into the company's advanced Optical Character Recognition (OCR) software offerings.
Available solutions include automation for Invoices (WiseINVOICE™), Purchase Orders (WisePO™), medical claim forms CMS-1500, UB-04, dental claims (WiseCLAIM™), Acord forms (WiseACORD™), bank statements (WiseSTATEMENT™, checks with stubs(WiseCHECK™), government-issued and state IDs, passports, survey forms, medical patient assessments, and numerous other document types.
Businesses that deal with large volumes of paper documents, document scanning, form processing and a ton of data capture, rely on WiseTREND, winner of the 2013, 2015 and 2017 ABBYY award for Project of the Year, and have continued to push the limits of OCR technology and educate users ever since. Now, the combined knowledge and expertise of this company is available through visiting their revamped website.
Ilya Evdokimov, a Senior Projects Architect at WiseTREND, has been deeply involved in every aspect of the company's leading-edge products. Mr. Evdokimov has been linked to ABBYY for over 19 years and made the following announcement related to WiseTREND's redesigned website:
"We are delighted to announce the launch of our new website. The updated design highlights our expanded product line of custom-tailored solutions, which are built upon our industry-leading ABBYY FlexiCapture technology, and span across virtually all industries."
For those looking for truly reliable OCR software that keeps pace with modern business, WiseTREND's new website offers the latest trends and hot topics. It's more than a sales platform for their new product offerings and leaves competitors in the dust as a one-stop source on how to improve business processes with easy, robust OCR tools. So, go to their new website and see what everyone is talking about.
WiseTREND is a technology company that delivers the most advanced data processing and document capture technology for organizations around the globe. As the leading integrator of ABBYY OCR software products, WiseTREND solves business challenges using advanced, proven solutions.
Source: WiseTREND OCR & Data Capture, Inc.
Share:
---
Categories: Administration and Management, Business Process Management (BPM), Enterprise Content Management (ECM)
Tags: abbyy flexicapture, abbyy ocr, best ocr, data capture software, document management, document scanning, document scanning software, invoice scanner, ocr software, optical character reader, optical character recognition, paperless
---