Winjit's New Automated Machine Learning Platform, PredictSense, Showcased at AI & Big Data Expo, Santa Clara
Winjit, a pioneer in providing smart solutions for trending technologies like Machine Learning and Internet of Things, was a part of AI & Big Data Expo at Santa Clara Convention Centre, Silicon Valley from 28 - 29 November 2018.
Press Release
-
updated: Dec 3, 2018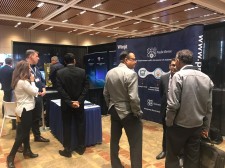 SANTA CLARA, Calif., December 3, 2018 (Newswire.com) - Over the past decade, Winjit's expert team of engineering professionals have provided innovative technology and engineering solutions that have resulted in world-class recognition.
Winjit showcased its recently launched Automated Machine Learning product, 'PredictSense', which is a platform built on an open API structure supporting 50+ algorithms. It helps solve complex real-time business problems in a very less amount of operational time. It gives live quick predictions which help in taking precise and optimum business decisions. The PredictSense toolkit can execute easy deployment and fine tune the deployed models with a plug & play to any 3rd party system. This is the ideal product for companies that want to incorporate machine learning capabilities in their existing applications.
PredictSense has been deployed in various businesses like actuarial science, veterinary reports, smart surveillance, delivery management, finance, captive insurance and loan origination among others. This product was named in the top 10 most recommended artificial intelligence solution providers by CIO Insider magazine.
Winjit also announced the launch of another product, 'KonnectSense,' a blockchain product that builds a universal connector and provides a platform for interoperability amongst different block-chain technologies. It allows enterprises to easily incorporate decentralization and distribution technologies in their operations with minimal capital investment in infrastructure. In partnership with one of the leading telecoms providers, this product has been deployed for the last mile connectivity of 5G roll out for a smart city.
Commenting on the participation Mr. Sanket Khandare, VP - Technology of Winjit, said, "We are delighted to be associated with this landmark event as it has provided us with an excellent platform to showcase our company, our industry expertise and knowledge to the top technology trends. We are excited that we were able to showcase our new Machine Learning product 'PredictSense'  and Blockchain based product 'KonnectSense' in this event."
About Winjit
Winjit is an internationally reputed technology company. Over the years, it has gained recognition across the world as an engineering technology company. With a presence in all major geographies in the world, it is prominent in USA, UK, South Africa, Singapore, and India. Winjit's expertise lies in the latest trending technologies including Machine Learning & Artificial Intelligence, Blockchain, Internet of Things, BFSI, Product Engineering and Emerging Technologies.
To know more about our product and services, www.winjit.com
Source: Winjit Inc.
Share:
---
Categories: Business Technology
Tags: AI expo, Artificial Intelligence, event, machine learning, PredictSense, santaclara, US
---