360-Degree View of a World Driven by AI - Showcased by Winjit at Mobile World Congress 2019, Barcelona
Press Release
•
updated: Mar 1, 2019
An emerging AI company - Winjit recently showcased a complete 360-degree view of AI as an emerging platform. The Winjit platform covers a wide range of solution that converges the best of IoT, Computer Vision, Machine Learning, and Natural Language Processing. This convention was held in the Fira Gran Via Exhibition Centre, Barcelona from 25 Feb. to 28 Feb. 2019.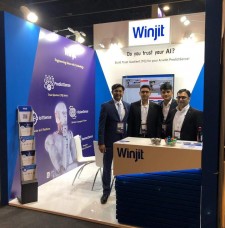 BARCELONA, March 1, 2019 (Newswire.com) - Winjit allows modern-day AI scientist and engineers to easily build, deploy trusted models that can be freed from biases. A variety of live use cases built on various AI platforms were demonstrated ranging from greenhouse management to a new age document management system. Innovative tools for the last mile connectivity for the 5G rollout for smart cities through AI Dapps in a true Distributed Ledger Technology were the highlight of the show.
The flagship product "PredictSense" from Winjit has been a revolutionary software which has benefited numerous businesses. It works on an effective & powerful algorithm which operates over API structure & creates a strong automated machine learning platform. Its efficiency has helped operational business problems to conclude with solutions in a real-time scenario. The impactful predictive models being generated by the algorithms facilitate the businesses to derive precise & optimum business decisions.
Winjit has few other feathers in its cap in the form of products such as "IoTSense", "VisionSense", and "KonnectSense". These products were also demonstrated to show the technological excellence of Winjit. These products have been driving businesses to reach to destination solutions like Real-time analytics, M2M Communication, Smart Surveillance & deployment of smart contracts & many more.
Winjit has been covered as one of the top ten emerging AI platform companies by the CIO Insider magazine. Winjit AI platform has enabled a large of modern age AI technology companies to rapidly build and deploy solutions on the edge in a supervised and unsupervised environment. Recently, SIDBI and The Economic Times India MSE Awards, 2019 honored Winjit with two awards for being the Most Innovative MSE and the most Tech Savvy MSE.
Co-Founder of Winjit – Mr Abhijit Junagade who has been presenting various innovative solutions since last 5 years at MWC Barcelona mentioned, "MWC Barcelona has allowed us a great platform to showcase various different products and platforms. With the rapid evolution of telecommunication technologies and computing power available, Winjit AI platform has enabled a seamless convergence of emerging areas of IoT, Machine Learning and Blockchain in what we call allows to build the Intelligence of Things with a platform that automates TRUST".
Source: Winjit
Tags
Additional Links