Wild Antics of Westboro 'Anti-Gay Church' Continue to Drive Up Sales for Young Gay Entrepreneur
Press Release
•
Jan 5, 2016
Hitting international headlines last week, the 'Anti-Gay' church is still stirring the social media pot against the 26-year-old gay CEO of Z Skin Cosmetics, bringing in massive sales for him as they grow more frustrated with no reaction from the 26-year-old.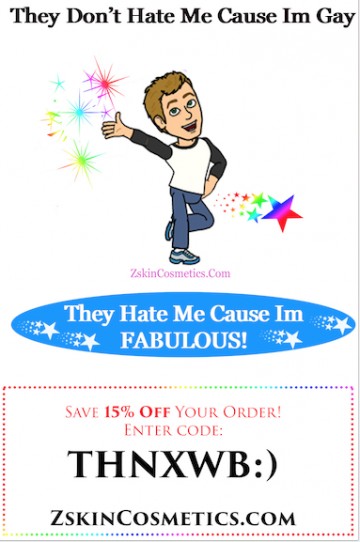 Topeka, Kansas, January 5, 2016 (Newswire.com) - ​​Last week, Westboro Church created a spike in sales for the young gay CEO of Z Skin Cosmetics, after trying to attack his company via social media. But if Westboro is seeking some sort of reaction from the gay-owned organic cosmetics company, Ryan Zamo just continues to whole-heartedly thank them, acknowledging them for helping to pull in revenue for his organic cosmetics company.
Thanking them with a basket of their organic skincare products, it seems Zamo really ruffled their feathers, causing the church to post and tag him in a 'better' edited version of his own photo; naming it 'the photo of the week', and sharing it all over social media.
The postings by the church once again swirled the cycle around, creating a whole new social media frenzy, as even Zamo himself shared their photos and tweets to him, he said, 'I think it's absolutely hilarious. I mean honestly, my fiancé and I are comfortable enough with ourselves that this kind of stuff doesn't bother us, but I mean they're right...were gay; SURPRISE! But the way we see it, if it's still going on, we may as well embarrass it! The basket we sent them was returned to us with a note, I decided not to open it, and threw it away instead."
Embracing the moment is exactly what the young entrepreneur did, after being named the 'anti-gay' organizations photo of the week, the CEO of Z Skin Cosmetics created a sale in honor of his award, the promo reads 'They don't hate me cause I'm gay, they hate me cause Im fabulous! Save 15% off with promocode THNXWB:) "
For more information on Z Skin Cosmetics; visit: www.ZskinCosmetics.Com
About Z Skin Cosmetics:
Z Skin Cosmetics speaclizes in affordable, luxury, organic skincare, hair care and mineral makeup. The vegan friendly, cruelty free brand was started n a young entrepreneurs kitchen to help with his own acne and hair loss problems. Using knowledge from his mothers long respected career as a plant biologist and horticulturist, and his fathers childhood in Budapest, Hungary, the 25-year-old began creating his own products using exotic ingredients. Within months, the products had become an international sensation, and have since been named the # choice by multiple world leading magazines, on television and news shows, and was named' 'A True Inspiration' at the 2015 American Music Awards.
Contact:
Ryan Zamo
Ryan@zskincosmetics.com