Weerg's Innovation Debuts at Mecspe 2018
Weerg chose the italian Mecspe expo to meet industry operators for the first time.
Press Release
-
updated: Feb 1, 2018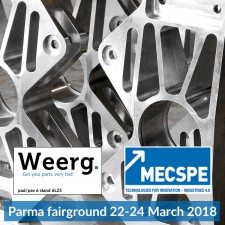 VENICE, Italy, February 1, 2018 (Newswire.com) - Two years after its launch, the Venetian company Weerg has created a platform that offers online CNC and 3D machining. Weerg is now ready to unveil news, strategies, and other information to its active customers, but also to those who do not yet fully understand the potential of this revolutionary service.
100% made in Italy, from concept to centralized production in the Marghera factory, an important strong production capacity and an extremely accurate and timely online quotation service, weerg.com is registering high acceptance by scoring important numbers. Approximately 10,000 files are uploaded daily by customers interested in having an instant quote, which translates into hundreds of orders. Moreover, the format of online sales does not set geographical limits, so much so that customers come from all over the world, including Australia.
"Too effervescent not to participate. Even if the market is starting to get to know us and even if there are already thousands of active customers, we have chosen Mecspe to meet them and deepen the relationships that are managed online, by phone or email. It will be very interesting to meet personally those who already use our service to compare, collect ideas and, why not, even new ideas to be implemented. Weerg was born with the aim of bringing innovation into a mature market and innovating is part of our DNA. We are only at the beginning!", comments Matteo Rigamonti, creator and founder of Weerg.
The company will have a strong presence at Mecspe with an exhibition space designed to encourage comparison and exchange of opinions. The lounge area will be overseen by trained personnel available to visitors for technical questions or simple curiosity. The gallery will show numerous application examples made with the two technologies chosen by Weerg: the Hermle continuous 5-axis machining centers and the HP Fusion Jet 4200 systems for industrial quality 3D printing.
Many innovations will be announced officially at the trade show, starting from the expansion of the fleet that, thanks to the agreement signed for the purchase of 6 new work centers, will deploy by June 2018 a battery of 10 Hermle C42U intended for CNC machining. It is flanked by the 3D printing department that currently has 3 HP Jet Fusion systems, which is about to reach saturation. A technology with industrial performance ideal for both prototypes and for runs that already starts to affect injection printing. "Our constant investments in the best technologies available on the market allow us to guarantee a service that until now was not there, distinguished by high quality, execution speed, precision, respect of delivery times and competitive costs", says Rigamonti. 
Even the software features news, with the presentation of the quote calculator and the automatic recognition system of the features developed by the Weerg team of engineers. Functions that guarantee customers an increasingly user-friendly but above all extremely efficient service in terms of accuracy and precision of the evaluations. There will be announcements of new materials that will go to expand the application fields both with the CNC and with 3D printing, where rubber and polypropylene are eagerly awaited. "To all the visitors we meet at our stand we will reserve a voucher of 50€, inviting them to test the great potential of our service", concludes Rigamonti.
Source: Pink communication
Share:
---
Categories: Engineering, Maintenance and Repair, Manufacturing
Tags: 3d printing, 3d printing online, cnc machining, cnc online, prototyping, solidworks, turning online
---