The Excellence of Weerg.com is Certified by Trusted Shops
The European trust brand in e-commerce has certified with top marks the CNC and 3D printing online leader.
Press Release
-
updated: Feb 19, 2018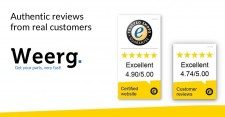 VENICE, Italy, February 19, 2018 (Newswire.com) - Weerg.com, the first platform that offers CNC and 3D processing exclusively online, continues to bring innovation to the world of mechanics. Pure e-commerce, with a 100% made in Italy production, after a scrupulous verification process has obtained the prestigious Trusted Shops certification, the leading trust brand for online purchases, synonymous of e-commerce guarantee and quality for 20 years from all over Europe.
Only e-shops that meet strict criteria including financial solvency, price transparency, customer service and protection of sensitive data, can request this certification and display the seal of quality on their site: "A sign of confidence that our company can proudly boast after passing the strict certification process. With us, fast execution times, transparent costs and reliability are certified and confirmed by our customers' reviews. In fact, today our customer satisfaction score is very high both in Italy (4.69 / 5.00) and abroad (4.88 / 5.00) "- commented Matteo Rigamonti, founder Weerg.
What Trusted Shops guarantees
The Trusted Shops certification logo, with its descriptive card, appears directly on the weerg.com homepage and contains the seal data and the current evaluation of the e-commerce. Users can request registration for buyer protection on the order confirmation page at the end of the purchase process. The Weerg Trusted Shops identification code is sent to the applicants by e-mail to guarantee a secure purchase process. In fact, the certifying body ensures coverage up to € 2,500, in case of non-delivery or after the return of the goods, for a period not exceeding 30 days.
User Reviews: A Buyer's Guide
In addition, after placing an order and receiving the delivery, customers also have the opportunity to review the quality of the online store by leaving a comment within the Trusted Shops widget. Through this impartial system, Weerg offers users the possibility of telling one's own purchasing experience and evaluating it, without being able to intervene in the process of collecting and publishing reviews that are controlled directly by Trusted Shops. This ensures its authenticity while ensuring absolute transparency and veracity of the experiences reported, which thus become a buyer's service guide for other users.
Customer Testimonials
Since obtaining the certification, which took place at the beginning of February 2018, there are already many comments available on the Weerg page. More than 100 users out of 130 give the Venetian company the maximum score, witnessing the quality of service, products, respect for delivery times, professionalism and innovation at all levels. A real revolution compared to traditional operators.
"Immediate online estimate, fast response to the feasibility, certain times of order evasion and excellent product: these are the factors that I could count on and that have facilitated my work as a designer", says a user. There are those who express synthetic appreciations such as: "Excellent partner for confidentiality, punctuality, seriousness, and attention to customer requests", and those who tell in detail about their experience: "For months I have looked at several workshops to make some pieces and every time I was treated with arrogance, I had to wait weeks just for the quote. Then I found Weerg and in 5 days they delivered to my table perfect pieces. Punctual, precise and without losing a minute in useless discussions. Serious company with real professionals, moreover with superlative equipment ".
The fleet: the assets for a fast and reliable production
And it is precisely the equipment, carefully selected among the best technologies in the world, to represent one of the assets of the formula developed by Weerg to offer excellence at all levels. Recently, the company has announced a further expansion of the fleet located in Marghera (VE) which, thanks to the agreement signed for the purchase of 6 new work centers, will deploy a battery of 10 Hermle C42Us destined for CNC processing by June 2018, all equipped with the exclusive Lancet microspheres shot peening. It is flanked by the 3D printing department that currently has 3 HP Jet Fusion systems, close to reaching saturation. Another unparalleled plus, the new online estimator and the automatic features recognition system developed by the Weerg team of engineers. Functions that guarantee customers an increasingly user-friendly but above all extremely efficient service in terms of accuracy and precision of quotations.
Source: Weerg
---
Categories: Automotive, Engineering, Manufacturing, Research
Tags: 3d printing, 3d printing online, cnc machining, cnc online, prototyping, solidworks, turning online
---