Unprecedented Agreement: Weerg Orders Six New Hermle C42U
The biggest order ever for Hermle Italy from the CNC online service bureau
Press Release
-
updated: Jan 23, 2018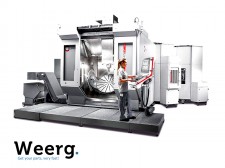 MARGHERA, Italy, January 23, 2018 (Newswire.com) - Weerg.com, the web-based platform that offers online CNC and 3D machining, announces the signing of a new unprecedented agreement. By June 2018, six new Hermle C42U CNC machining centers will be installed at the production site in Marghera (VE), the first three in May. The state-of-the-art machinery fleet will have a total of 10 Hermle C42U continuous 5-axis batteries that will be connected in a single, fully automated robotic flow.
Every single machine will be equipped with an online warehouse up to 500 tools and a custom software for supervision and management of orders in order to work without interruption in a 24/7 mode. By increasing automation levels, it will be possible to further reduce downtime and improve the quality of the parts, reducing human intervention in repetitive operations such as placements and handling of parts.
"The use of the best technologies in the world combined with instant online budgeting makes our formula an absolute novelty. Weerg was born with the desire to bring simplicity, quality and punctuality to the mechanical sector", says the founder Matteo Rigamonti. "The keyword for 2018 is 'optimization'. Our goal of creating millions of different pieces per year can only be achieved with a perfect work organization and a flow that allows automation and precision at the same time. And that's why we continue to invest in the best technologies currently available in the international market".
The Hermle systems chosen by Weerg ensure a generous working range (800x800x550 mm) and swivel rotary table, with a loading capacity of up to 1,400 kg and high-speed motor spindles. In addition, they are all equipped with a tower tool magazine extension (up to about 500 tools per machine) to ensure the best processing flexibility. In fact, by having more tools, it is possible to choose the best execution strategy on a case-by-case basis. Operational continuity and maximum speed are ensured by the use of twin tools with which you can finish a machining operation without the machine having to be interrupted for a replacement. The huge number of online tools per single machine will also increase the achievable morphologies, quality and speed of implementation with weerg.com.
"With the integration of an additional six Hermle C42U work centers and the simultaneous adaptation and updating of the automation, Weerg positions itself at the top of the productive realities with regard to potentiality, flexibility, speed of execution and guarantee of the highest quality and precision obtainable", says, satisfied, Ernesto Molinari, director of Hermle Italy, who since the launch of the business has guided Weerg in choosing the best-performing solutions based on the company's set goals.
Next to CNC online machining, 3D printing is also being offered, for which Weerg has focused on the technology of three HP Jet Fusion systems, able to guarantee industrial quality, very fast times and absolutely reasonable costs. To date, these printers work Nylon PA 12, characterized by great solidity and versatility - characteristics that make it particularly suitable for a wide range of uses, all starting from the single prototype to thousands of pieces (up to 5,000 right now) delivered by Weerg in three, five and nine days depending on the needs of the customer.
Source: Weerg
---
Categories: Automotive, Manufacturing, Research, Engineering
Tags: 3d printing, 3d printing online, cnc machining, cnc online, prototyping, solidworks, turning online
---