WayKen Rapid Manufacturing Acquires Global ISO9001 Certification
Certified by ISO 9001, WayKen, a rapid manufacturing company, is taking the lead in prototype machining and low-volume production for custom parts, providing one-stop services from prototype to production.
Press Release
-
updated: Aug 8, 2019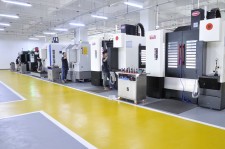 SHENZHEN, China, August 8, 2019 (Newswire.com) - As one of the leading rapid manufacturing companies in China, WayKen Rapid Manufacturing has set new standards by being among the top ISO9001 certified-companies doing rapid prototyping China. The award benefits the rapid manufacturing company in so many ways which include quality management systems that provide confidence to all stakeholders, as well as increased efficiency and productivity. Global recognition is the other benefit the company enjoys from the certification. The transition to the new standard takes effect from 2019 to 2022. Specifications of the ISO 9001:2015 standard include relationship management, evidence-based decision making, leadership, people engagement, process approach, improvement, and customer focus. WayKen Rapid Manufacturing conforms to all this.
Scientific and Quality Management System
Several other things have been integrated into the company's quality management systems to enable the company to address what it may highlight. The ISO 9001: 2015 standard is customer-focused and hence, companies being awarded have put a lot of focus in ensuring clients are happy. WayKen Rapid Manufacturing Company puts much emphasis on client satisfaction. Being ISO9001 certified shows how much the company focuses on customers. With advanced technologies of rapid prototyping, CNC machining and rapid tooling, WayKen prides itself as one of the leading prototype manufacturers in China which also deals with the low volume production of custom parts. The company works closely with those in the automotive, aerospace, electronics, medical, vehicle, and aviation industries to choose the right technology for various applications in the custom production of parts. They offer necessary services from prototype to production.
WayKen also offers CNC machining services that are mostly focused on metal and plastic parts. In this type of machining, specific material is processed by precision 3-, 4-, 5-axis CNC machines that are programmed using computer-aided design. The advanced CNC machining equipment used guarantees an accurate finish and high levels of efficiency in flexible production. Choosing the right technology or procedure is one thing WayKen does to guide its clients on what they find best. To be ISO9001 certified shows Wayken's commitment to producing quality products and offering quality services to clients. This is a major achievement for the company. Service delivery is key. Complaints from customers and any criticism are addressed accordingly at WayKen. ISO9001 shows that a company offers products and services that are of the desired quality. It aids in the streamlining of business processes and their continuous improvement. 
Where ISO9001 certification takes WayKen
The ISO 9001:2015 certification has put Wayken Rapid Manufacturing Company in good place. As one of the giant rapid manufacturing companies in China, the company is now determined to put everything at stake to ensure customer needs are met always. Overall communication has also improved significantly since the certification was awarded. The level of trust witnessed has made suppliers be more like partners. WayKen continues to produce good and quality services. Challenges expected to be experienced by the company in the implementation of the new ISO9001 standard include process approach and risk-based thinking. However, the company has put everything in place by introducing the latest technologies and hiring experts to ensure the management systems of the company get a smooth upgrade.
WayKen Rapid Manufacturing Company, with the help of its internal lead auditors, will conduct audits on a regular basis to maintain the ISO9001 certification and make major improvements. The company will also conduct management review meetings to make sure that quality standards are offered to customers and every other person involved. With ISO 9001:2015 certification, WayKen believes they can go further in the prototype industry in the future.
Source: WayKen
Share:
---
Categories: Production and Manufacturing
Tags: CNC machining services, prototype manufacturers, rapid manufacturing companies, rapid prototyping
---