Giant Rapid Manufacturing Company, WayKen, Plans to Improve Custom CNC Machining Services
WayKen is proactively promoting its Custom CNC machining business around the globe, as well as striving to be the top custom prototype manufacturer.
Press Release
-
updated: Oct 10, 2019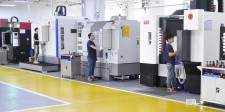 SHENZHEN, China, October 10, 2019 (Newswire.com) - The WayKen Rapid Manufacturing company tops the list of many other companies that offer CNC machining services in the world. Located in China, it has highly skilled operators and uses state-of-the-art technology to ensure an idea is implemented from the prototype to the production phase. Computer Numeric Control (CNC) machining is a cutting procedure that involves the use of various types of machines and technology for purposes like drilling, machining, routing, cutting and milling.
WayKen Rapid Company is always ready to fulfill most clients' custom CNC machining needs to ensure they come up with quality parts for their prototypes. The prototyping phase is crucial, as it helps in determining the quality of the final product. WayKen has a team of experts who help clients in creating or improving their initial product designs. The prototype manufacturing phase is also essential after achieving the desired product design. A manufacturer may be required to undertake low volume production for parts being introduced to the market for the first time.
WayKen is the go-to CNC machine shop for low volume production of custom parts. Many clients are opting for low-volume production because of how parts are produced fast and reach the market quickly. It also allows them to make massive improvements to their designs to ensure they are fit for use in the market. WayKen is determined to maintain the top spot as one of the leading prototype manufacturers in China by implementing different strategies to improve custom CNC machining services.
Plans by WayKen to Improve Custom CNC Machining Services
The following are plans WayKen has put in place to improve custom machining services offered.
Technological Improvements
The company is always open to the latest technologies that play a role in enhancing production. WayKen is using the latest software meant to create ideal product designs and also in the machining process. The team of experts hired by the company also do their best to stay updated on what's new in the market and anything else that can help boost productivity and come up with the best designs.
Coping With Competition
WayKen is also ready to stay ahead of the game by including different strategies that will keep the company at a different level from their competitors. Through the introduction of the latest technologies and custom CNC machining methods, the company will always be ready to deliver for its clients.
Modern Machining Tools
WayKen also plans to purchase the latest machining, cutting and milling tools to boost custom machining services offered by the company. The company is already using some of the latest machining tools meant for the production of parts from different materials. Using state-of-the-art machining tools with several capabilities helps to boost productivity and also come up with intricate parts. WayKen is ready to buy the latest machining tools to ensure quality parts that meet the requirements of its customers are produced.
Outsourcing
WayKen is planning to outsource some of its services in a bid to get more qualified personnel and introduce new ideas to their production process. This strategy will also help the company to cut some of its production costs because of the cheap labor they will get. Outsourcing in custom CNC machining is vital, especially when making design improvements to come up with quality parts.
Value Addition
There are different steps involved in CNC machining from the initial prototype phase to the final production. Improving work value in each stage is vital in coming up with the right product in the final step. WayKen plans to make their custom machining service more of a value-added production. This will help in coming up with designs and parts that meet client satisfaction.
Source: WayKen Rapid Manufacturing
Share:
---
Categories: Production and Manufacturing
Tags: CNC machine shop, cnc machining services, custom CNC machining, prototype manufacturing
---