Renowned Rapid Manufacturing Company Wayken Implements Different Strategies to Improve CNC Production Management
With the advanced Quality Management system, WayKen as an ISO 9001 certified rapid manufacturing company will commit to improve CNC production services in whatever production and project management. Continuous quality improvement and customer satisfaction will be their forever pursuit.
Press Release
-
updated: Sep 11, 2019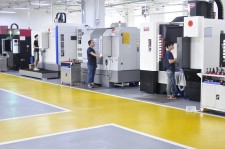 SHENZHEN, China, September 11, 2019 (Newswire.com) - ​​​​​Wayken is one of the leading rapid manufacturing companies in China carrying out CNC production among other services. CNC machining is a popular procedure used in the production of custom-designed parts. It is a reductive manufacturing process involving the use of automated controls and machining equipment to bring out parts from a single material. Wayken is an ideal option for the best CNC services in China.
The company recently implemented several strategies to boost CNC production management. This has played a crucial role in reducing production costs incurred in CNC project management. Project management is all about using the available time and resources effectively using a special procedure to achieve the ultimate production goals. The new strategies implemented by Wayken will help cut CNC prototyping costs and also reduce production waste.
Strategies Implemented by Wayken to Boost CNC Production Management
Wayken has set the following roadmap to achieve the desired production goals.
Investing in Technology
Digital software systems play a crucial role in running different operations in a business and also ensuring that production costs are reduced in a company. Wayken has invested in state of the art enterprise resource planning (ERP) software that has helped to improve different business processes. The system allows the company to try out different computerized procedures during production. Highlighting several flaws experienced during production is now easier, thanks to the ERP systems introduced by the company. This type of technology has also helped to reduce costs in the company by establishing the number of materials and equipment required for the next project. The company has also ditched manual systems that prove to be erroneous and lead to several miscounts. Manual scanning systems and Electronic Data Interchange (EDI) are some that help reduce the mistakes experienced during order filling.
Lean Production
Using lean production methods is another ideal strategy that helps to improve CNC production management and also lower production costs. It is one of the strategies implemented by Wayken to improve CNC production management in the company. This strategy brings together different employees who deliberate to bring out several suggestions that help in lowering production waste essential in reducing costs. Procedures that do not add any value get eliminated in the process of deliberation.
Personnel Management
The strategy, which has also been implemented by Wayken has helped to reduce production costs and improve project management. Outsourcing is a common practice in this type of plan. It is all about employing workforce outside the organization to perform several tasks and create items that were initially created by the employees of the parent company. This is vital in cutting costs.   The company is now able to find qualified personnel to perform different tasks necessary in the production process. Identifying suppliers and workers who are productive for the job has been made easier by this strategy.
Just in Time (JIT) Inventory
It is another master plan Wayken is using to improve project management and CNC machining costs. Just in time inventory management reduces the chances of running short of products that may be required by your customers. Cash flow in any business is severely affected when too much inventory or stock is held. This type of inventory helps the company to establish the period a particular stock has been in the store. Working capital will be limited, and the headache comes in when a bigger order has been placed. JIT inventory management will make it easy for Wayken Rapid Manufacturing Company to order stocks on time and lower the chances of piling up stocks that limit cash flow.
Source: WayKen Rapid Manufacturing
Share:
---
Categories: Production and Manufacturing
Tags: CNC production, CNC project management, CNC services, lean production
---