How Wayken Rapid Manufacturing Company Has Benefited From Using Diamond Machining Technology
WayKen never stops its paces in technology innovation, they are making more efforts to explore more advanced machining techniques to bring out quality parts that meet customer satisfaction.
Press Release
-
updated: Oct 21, 2019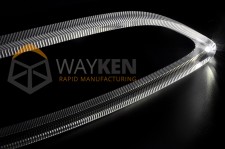 SHENZHEN, China, October 16, 2019 (Newswire.com) - ​​​Wayken prides itself as the leading rapid manufacturing company in China, employing a number of techniques to bring out quality parts. As the preferred choice for many, Wayken uses the latest technologies to improve quality and boost productivity in their production. Some of the procedures used by the company have also been pivotal in enhancing CNC production management.
Diamond machining is one of the techniques the company has been using over the past few years. This is an ultra-precision machining technique that involves the use of diamond cutting tools to bring out parts that have a quality surface finish and high optical qualities. Diamond tools used in the procedure have qualities that make them the best for this type of precision machining.
Their hardness makes them ideal when they come into contact with the surface of different materials. Diamond turning and diamond milling are some of the technologies used by Wayken to come up with parts that meet their clients' requirements. The company is also using the latest diamond machining techniques.
Diamond Machining Techniques Used by Wayken
Single-point diamond turning (SPDT) and single-point diamond milling (SPDM) are some of the most popular techniques used by the company. Single-point diamond turning (SPDT) is a procedure commonly used in coming up with surfaces that have top accuracies. The method was widely used in the production of nuclear weapons and other materials that required high levels of quality, shape and finish. The technology has since been adopted by top manufacturing companies offering rapid prototyping services such as Wayken for the production of metal optics that have spherical requirements and other parts that need require a quality surface finish. The procedure involves the use of cutting tools fitted with diamond on their bits.
Single-point diamond milling is another technique used by Wayken where diamond cutting tools also come into play. A device with a diamond-tipped enclosure is used during this technique. Single-point diamond milling is used in the production of intricate surfaces. Wayken follows the right procedures of single-point diamond milling to ensure the surface finish is not affected during the process.
How Wayken Benefits from Diamond Machining Technology
The company has benefited greatly from this type of machining technique.
Quality Surface Finish
It is one of the major benefits attributed to the application of this procedure by the company. The use of some conventional methods may not guarantee you the kind of finish needed when producing different parts. Cutting tools used in different diamond machining techniques have the required grinding efficiency, and minimum force is also used during the process. The use of this machining technology has enabled the company to come up with parts that have a quality surface finish.
Cutting Non-Ferrous Materials
Non-ferrous items are those that don't contain iron. Cutting them using conventional procedures does not bring out a quality finish because of the nature of cutting tools used during the process. This is because they are very soft and can be best cut using hard materials. Diamond cutting tools offer the best solution because they cut these materials at the required resolution to bring up something that is of the preferred quality. Wayken is using the procedures for such materials, and this has helped to bring about some top-level satisfaction among clients.
Resistance to Wearing Out
Tools used in this type of machining technology have high wear resistance. Their level of resilience makes them the best when it comes to combating high temperatures and increased cutting speeds. Wayken is using this technique in the bulk production of aluminum parts because of this characteristic. The company plans to implement more machining techniques to bring out quality parts that meet customer satisfaction.
Source: Wayken Rapid Manufacturing
Share:
---
Categories: Production and Manufacturing
Tags: diamond machining, rapid manufacturing, rapid prototyping services, SPDM, SPDT
---