WayKen is Set to Release a New Rapid SLA and SLS Manufacturing Machine
As a top rapid prototyper supplier in China, WayKen's professional project group can guide you through many 3D printing processes to achieve exactly what you are looking for, combined the best blend of traditional CNC machining techniques with the latest rapid prototyping technologies to construct each model in the most cost-effective manner.
Press Release
-
updated: Nov 6, 2018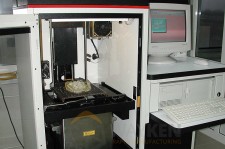 SHENZHEN, China, November 6, 2018 (Newswire.com) - WayKen, a rapid prototyping manufacturing company, will be presenting two of its latest machines, The SLA and SLS prototyping machine. WayKen has been working tirelessly to make sure its clients get the best product as regards SLA and SLS prototyping machines. The machines have been reported ready and available to the general populace.
THE STEREOLITHOGRAPHY PROTOTYPING MACHINE:
Today, WayKen will be presenting a new prototype "stereolithography" machine, otherwise known as SLA is regarded as the original 3D printing strategy machine. This machine has been reported to have several capabilities which include the production of master patterns, a concept model for urethane casting, one-off models and intricate components with complex geometry. SLA also adopts the use of an ultraviolet laser light which pulls on the surface of a liquid thermoset resin to produce several thousands of thin/finer layers until final components are obtained. A wide range of parts, very high feature resolutions and maximum quality surface finishes are also very feasible with the stereolithography prototyping machine.
THE STEREO-LASER SINTERING PROTOTYPING MACHINE:
The Stereo-laser Sintering (SLS) machine will also be released alongside the stereolithography machine which is way much peculiar to the SLA machine. The SLS adopts the use of a very high optic laser power which helps to fuse minute powder particles layer by another layer until a complex and durable geometric component is attained. SLS machine has been said to be capable of manufactures gigantic component with nylon materials and nylon materials filled with glass, making it a genuine process for usage such as in fuel tank, ductwork, and brackets, as well as in functional prototyping. It is also said that the SLS methodology can be used for testing products; such as short-run production under normal condition.
"The two prototyping machines we will be releasing today are best used for catalyzing your product development processes. From a simple CAD design to a more physical component in hands and also feasible and visible to all your teammates. Even when you are trying to get information about additive production for your prototypes, the SLA and SLS machines are just the best option you would ever think of," says Raymond, WayKen's founder.
The SLS machine which was manufactured to help produce materials which can be gotten from metal, ceramic, plastic, or glass powders with excellent performance. The SLS machines have been said to be able to produce parts in white Nylon-12 PA650, PA 625-MF (Mineral Filled) or PA615-GS (Glass Filled). However, SLA can be a liquid photosensitive polymer, and its performance compared to thermoplastic or thermosetting plastic is different. Another importance of the SLS machine is that it makes use of real thermoplastic components to produce parts with excellent mechanical properties. And its final product can be used to test the overall purpose material of a future injection mold design or function. This also points out that SLS is more easily handled, and can be easily used in drilling and tapping as well as in milling. The SLA machine prototypes should be carefully handled because the components may be broken at any slight mismanagement.
More information can be gotten from the link below:
https://www.waykenrm.com/technologies/rapid-prototyping-sla-sls
The prototypes are currently undergoing a series of tests in the laboratory. They are subjected to different and advanced tool types in an abridged environment. However, the machines have been designed to meet the standards of the 21st century, i.e., it has its software that makes the usage easier and time friendly. The machines would be presented at the grand opening as they stand as an avenue for digitalized and modernized prototype as regards the machining sector.
WAYKEN RAPID MANUFACTURING LIMITED
SHENZHEN WEIKE RAPID PROTOTYPING TECHNOLOGY CO. LTD.
Factory Add: Penglongpan Hi-tech Park, Dafu Rd, Shenzhen, China.
Mobile: +86 755 2373 1920 Phone: +86 755 2373 1920
Follow WayKenFACEBOOK: https://www.facebook.com/waykenrm
INFO@WAYKENRM.COM
Source: Wayken
Share:
---
Categories: Engineering
Tags: rapid prototype suppliers, rapid prototyping sla, sla machining, sls vs sla
---