WayKen is Looking Forward to Enhancing and Building an Efficient and Effective Medical Prototype
WayKen is dedicating to offering a full range of rapid prototyping and manufacturing solutions to the medical industry at a cost-effective and faster delivery.
Press Release
-
updated: Sep 19, 2018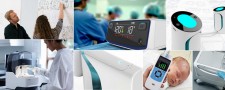 SHENZEN, China, September 19, 2018 (Newswire.com) - It is no news that a quick and successful completion of clinical device is a major prerequisite for the economy and commercial success of medical prototypes. Medical device prototyping is the basis to your medical product development and design process.
Clearly, anybody that has been through the process is aware of the fact that new medical device development has in one way or the other help improved our birthrate. However, an excellent technologist redefines the best ways from concept to commercialization. Medical prototyping machines must carry out standardized and complex capabilities with respect to the available part and the structures of the machine's components.  The prototyping development services employed by the medical industry also offer a great chance to ascertain for improvement in usability, design flaws, and outstanding performance before moving to manufacture.
CNC Precision Machining For Medical Devices And Components:
Wayken today will also be presenting a CNC precision machine for medical devices. On the other hand, this machine places focus on extremely precise visual design simulate and also full-functioning prototypes from 3-axis CNC machining for simple medical components to a flexible 5-axis specification for precision machined medical parts. These processing potentialities allow you run metal and plastic machining in a cost-friendly way. Important features embedded in the medical prototyping machines include production-grade metals and various plastics, repeatable, highly accurate, and outstanding surface details, finishes and fast turnaround time. CNC medical prototype machining can be run continuously for more than 24 hours once the setup has been completed.
3D Printing Drives Innovation With Software Intelligence And Advanced Cloud Compatibility:
The software of the presented prototype is very convoluted since most functions are intertwined with the WayKen cloud, it makes it easier for faster connection and storage of database. 3D printing is a linear layering process that allows efficient and effective production of single simulate. This vast prototyping method gives room for an inexpensive and quick looping of the design for efficient correction via the software. The most vivid advantage 3D printing supplies is fit testing and accurate form as the major processes involved in additive technology that can accurately produce the size and form of the desired part.
Urethane Casting For Small-Scale Innovation In Medical Products:
One of the major opportunities coupled with the use of medical devices is the fact that they can make polyurethane casting a persuasive addition to the medical industry. Medical prototypes can also be used to operate urethane casting machines for the initial product unveiling prior to injection molding and tooling for efficient consumer feedbacks and market research, as well as instant delivery of medical devices. However, for markets where a small-scale invention is regarded as a norm and product life is short, silicone molding to cast urethane allows medical devices improve in their designs at an increased pace without having to remunerate the cost of hard tooling.
Need more Information on what we do, visit:
https://www.waykenrm.com/industries/medical-device-prototyping
Simple To Configure And Non-Puzzling In Terms Of Usage:
Users can log on to the company's website for more info about medical prototyping machines as they are very easy and risk-free when it comes to usage. The prototype for a medical machine is intended primarily to provide medical practitioners (customers) with the CNC functions in a development stage very close to optimum and effective usage. The design of the hardware is therefore only of advanced importance. The prototype is currently being tested in diverse medical projects with various machine types in in-house production and by specific partners.
WayKen Medical Device Prototyping Applications:
| | |
| --- | --- |
| Handheld | Surgical Instrument |
| Medical Carts | Electronic Apparatus |
| Medical Diagnostic Equipment | Ultrasonic Equipment |
| Medical Monitor Instruments |   Laser Equipment |
| Medical Treatment Devices | Physiotherapy Apparatus |
| Anatomical Models | MRI Devices |
| Tables & Panels | X-ray Equipment |
| Teaching Aids | Clinical Analytical Instruments |
| Care Equipment | |
TO KNOW MORE, VISIT: https://www.waykenrm.com
WAYKEN RAPID MANUFACTURING LIMITED
SHENZHEN WEIKE RAPID PROTOTYPING TECHNOLOGY CO. LTD.
Factory Add: Penglongpan Hi-tech Park, Dafu Rd, ShenZhen, China.
Phone: +86 755 2373 1920  Mobile: +86 136 0962 8044
Follow us:  FACEBOOK: https://www.facebook.com/waykenrm
INFO@WAYKENRM.COM
Source: WayKen
Share:
---
Categories: Engineering
Tags: medical cnc machining, medical device machining, medical device prototyping
---