Vision Films Set to Release Sequel to Popular 'Bennett's Song' Family Film
Press Release
•
updated: Oct 15, 2020
'A Bennett Song Holiday' Continues Celebration of Diversity, Adoption and Music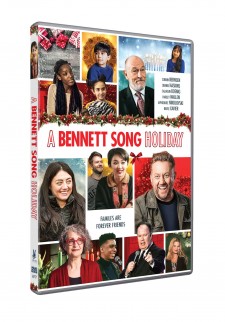 LOS ANGELES, October 15, 2020 (Newswire.com) - ​Vision Films Inc. ("Vision") announces the DVD and VOD release of A Bennett Song Holiday, November 10, 2020. The full-length feature from Executive Producers Nancy Oeswein and Thor Grandview, Auburn Moon Productions, Director Harley Wallen, and Painted Creek Productions, will be available in the US and Canada. With a diverse cast, including deaf actors who speak ASL, poignant issues addressed include racism, loyalty, education, and tolerance. Family is who you chose it to be and love comes in many colors.
Synopsis: With a baby on the way, the diverse Bennett-Song family teams up to stop a developer who wants to close down the community center. Love, teamwork, and holiday magic are sure to save the day!
Lise Romanoff, CEO and Managing Director of Vision Films says, "Harley Wallen has struck another beautiful chord with A Bennett Song Holiday and the talented young cast is so impressive. A mixed-race family taking on established power structures is so very timely and wrapped up in this particular story, makes for the perfect holiday film we all need. "
Harley Wallen, Director shares, "I knew after I read the script this would be something truly special, so much love, diversity and inclusion. I can't wait to share this film with the world, it is so much of the things we all need right now!"
The film stars Corbin Bernsen (Major League), Dennis Haskins (Saved by the Bell), Calhoun Koenig (Law & Order SVU), Harley Wallen (Betrayed), Aphrodite Nikolovski (Agramon's Gate), and Bryce Xavier (Total Eclipse).
Trailer: https://youtu.be/BennettSong
Press kit: BennettSongHoliday_PressKit
This film has received The Dove Foundation's Dove Seal for 12+.
A Bennett Song Holiday will be available on: iTunes, Vimeo, Amazon, GooglePlay, Vudu, and Vimeo, and across hundreds of U.S. cable providers including Comcast, Spectrum, Charter, Cox, Dish, DirecTV and more. DVD retailers include Amazon and all other major online retailers. Canadian cable providers include Rogers, Shaw, and Bell.
About Vision Films
Vision Films is a leading independent sales and VOD aggregator specializing in the licensing, marketing, and distribution of over 800 feature films, documentaries, and series from some of the most prolific independent film producers in the world. Led by Lise Romanoff, Managing Director/CEO Worldwide Distribution, Vision Films releases 2-4 films a month across Theatrical, VOD, DVD, and television platforms. visionfilms.net
About Auburn Moon Productions
Auburn Moon Productions is an award-winning producer of independent feature films. Helmed by screenwriter Nancy Oeswein, they are best known for the family films Bennett's Song, A Bennett Song Holiday, and award-winning films in the thriller and horror genre, including Moving Parts, Betrayed, Eternal Code, Agramon's Gate and Enigma.
About Painted Creek Productions
Painted Creek Productions is a production company known for films Eternal Code, Bennett's Song, Agramon's Gate, Abstruse and Betrayed. Founding partners and owners are Harley & Kaiti Wallen located in beautiful Lake Orion, Michigan.
Source: Vision Films