VIPColor Launches the Ultimate Color Label Printer in Performance and Price
Press Release
•
updated: Mar 16, 2020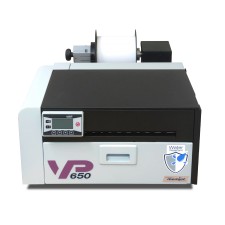 MILPITAS, Calif., March 16, 2020 (Newswire.com) - VIPColor Technologies USA Inc. ("VIPColor Technologies"), a leading manufacturer of digital label printing solutions, introduces a new desktop color label printer to its portfolio. Priced affordably at $5,295 (4,850 Euro) despite its high performance, the VP650 is built based upon the Memjet VersaPass™ Thermal Inkjet Technology.
"Our customers love the print quality and improved water-resistant ink of our VP750 color label printer. We heard the market's feedback on their needs for the same technology at a more competitive price," said Edward Ng, Marketing Director, VIPColor Technologies. "This led us to develop the VP650 with Memjet Advanced Water Resistant water-based dye ink. Coupled with the field-proven technology of our industrial-grade printers, we successfully developed the ultimate printer that can scale along with any dynamic business needs."
The VP650 is the ultimate printer that can help business exercise full control over their labelling process, from engaging private labels clients, label prototyping/proofing to full production. With VP650 and printing labels in-house, production does not need to grapple with overordering, wastage and paying for expedite delivery fee for pre-printed labels. More importantly, you get exactly what you need immediately or on-demand. This translates to an enhanced Return of Investment in a relatively short time.

Edward Ng, Marketing Director, VIPColor Technologies
The VP650 combines both print quality and speed within a compact desktop. It scales well with production needs of up to 10,000 labels in a day[1], enabling businesses to meet urgent and peak demands easily.
VP650 can print 1,000 full color labels (up to 8.5" wide) within 10 minutes with a resolution up to 1,600 x 1,600 dpi.
This compact industrial printer is equipped with a built-in cutter, patented print and hold mechanisms, network connectivity and remote web browser user interface for flexible configuration and status monitoring.
It also comes with huge 200ml individual ink cartridges, effectively reducing printing disruption due to cartridge replacement.
The printer can accommodate both paper and synthetic labels with matte and glossy finish in both roll and fan-fold formats.
This printer can be applied to chilled food and beverage, wineries, home care, personal/animal care products, nutraceuticals and most moisture-exposed label applications.
The VP650 will debut in Europe in March 2020, followed by the U.S. and Asia in June 2020.​​
For more information please contact -
US: Armando Lopez at alopez@vipcolor.com (+1 510 744 3770);
Europe: Norman Ho at norman.ho@venture.com.sg (+34 93 588 3018);
Asia: alfred.au@vipcolor.com (+65 6482 1755)
[1] Approximately 9,000-15,000 8" long labels within a 24-hour at 6ips is possible.
Source: VIPColor Technologies