VIPColor Launches Affordable On-Demand Color Label Printers
VIPColor Expands its High Performance Industrial Color Label Printers - more choices for brand owners and private label copackers.
Press Release
-
updated: Feb 5, 2018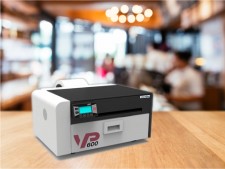 Fremont, Calif., February 5, 2018 (Newswire.com) - VIPColor Technologies USA Inc. ("VIPColor Technologies"), a leading manufacturer of digital label printing solutions, today announced the addition of two new label printers to its family of fast, on-demand and cost-effective industrial color label desktop printers for in-house label production. These new Memjet Powered Thermal Inkjet Label Printers – VP600 and VP750 – redefine on-demand color printing and raise the price-performance bar for label printers in its class.
"While most customers love the brilliant color and crisp text they get with our bestselling VP700 color label printer, some were looking for more options at better prices." said Edward Ng, Marketing Director, VIPColor Technologies.  "VIPColor new budget-friendly models put professional high quality on-demand color printing within the reach of every business.  VP600 and VP750 should be especially appealing to manufacturers and copackers that print labels in-house."
Priced below $5,000, VP600 enables brand owners and copackers to distinguish themselves and build brand equity with premium quality color labels and on-demand creative bespoke printing.  With VP600, one exerts full control over the exact print quantity with real-time up-to-the-minute on-demand print requirements, and never has to worry about lead-time, inventory and obsolesces of pre-printed labels again.  In addition to standard printing features of digital print-on-demand color label printer, VP600 supports fan-fold media printing.
VP750 not only prints with similar color vibrancy and crispness that VP700 is known for, it raises the performance benchmark for label printers in its class with the introduction of improved water-resistant print technology.  When used with compatible synthetic and paper label media, VP750 labels can withstand dampness without decolorization for prolong period of time, significantly longer compared to labels printed with conventional dye inkjet.   These features make the VP750 labels highly attractive for adoption across products exposed to moisture such as toiletries, cleaning agents and F&B products.
The VP600 and VP750 series of label printers print at a blazing speed of up to 8 and 12 inches per second respectively and delivers exceptional print resolutions of up to 1600 x 1600 dpi.  All models are ruggedly constructed with standard features including built-in cutter, patented print and hold mechanisms, network connectivity and remote web browser user interface for flexible configuration and status monitoring.  Other key benefits include ease of setup, operation and maintenance; reduced ink replacement frequency with large individual ink cartridges and low total cost of ownership.
The VP600 will be available in US, Europe and Asia in April 2018. The VP750 will debut in US and Europe in February 2018 at only $8,495. 
VIPColor Technologies
VIPColor Technologies, a member of the Venture Group of Companies, has been developing, marketing and manufacturing a range of digital printing solutions since 1998.  VIPColor Technologies has utilized extensive industry knowledge to develop label printing solutions focusing on speed, simplicity, reliability, print quality and connectivity. With customers in over 35 countries, VIPColor label printers enable businesses to create outstanding quality labels on-demand.
Edward Ng, Marketing Director 
VIPColor Technologies USA Inc. 
41300 Boyce Road
Fremont, CA 94538
Tel: 510-744-3770 
www.VIPColor.com
For more information please contact - US: Armando Lopaz at ALopez@vipcolor.com (+1 510 744 3770); Europe: Joan Sebastia Satorra at js.satorra@venture.com.sg (+34 93 588 3018); Asia: alfred.au@vipcolor.com (+65 6482 1755
Source: VIPColor Technologies USA Inc
Share:
---
Categories: Chemicals, Food and Beverage Manufacturing, Publishing and Printing, Printing, Packaging
Tags: budget label printer, chemical label printer, color label printer, copacker label printer, digital label printer, food label printer, prime label, vipcolor, VP600, VP750
---