VIPColor Launches Supersized Ink Cartridges for the VP600 Color Label Printer
Press Release
•
updated: Jul 16, 2019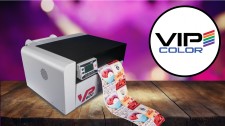 FREMONT, Calif., July 16, 2019 (Newswire.com) - VIPColor Technologies USA Inc. ("VIPColor Technologies"), a leading manufacturer of digital label printing solutions, today introduced a new super-sized 200 milliliters ink cartridge for its VP600 desktop printer.
Featuring 33% more ink which translates into 25% cheaper per milliliter, the VP600's higher-capacity ink cartridges can lower the cost per print.
"Today, the VP600 is one of the best performing color label printers under US$5,000 in the market. The introduction of these new up-sized ink cartridges will further enhance the cost-effectiveness and appeal of the VP600," said Edward Ng, Marketing & Sales Director, VIPColor Technologies. "Businesses seeking in-house label printing solutions will find VP600 a great investment. It is easy to use, adaptable and highly scalable to meet surging demand."
Launched in 2018, the VP600 has been well-received by brand owners who were looking for quality in-house label printing solutions to support their expanding operations. These brand owners feedbacked that the VP600 delivered premium print capabilities with built quality.
In addition to standard printing features of digital print-on-demand color label printers, the VP600 supports fan-fold media printing. Printing at up to 8 inches per second, the VP600 is able to produce one thousand labels measuring 6 x 4 inches in under 10 minutes, while delivering print resolutions of up to 1600 x 1600 dots per inch.
Built-wise, the VP600 contains standard features such as built-in cutter, print and hold technology, network connectivity and remote web browser user interface for flexible configuration and status monitoring. Other key benefits include ease of setup, operation and maintenance, as well as low cost of ownership.
The new 200ml cartridges will be available from August 2019 onward.
VIPColor Technologies, a subsidiary of Venture Corporation, has been developing, marketing and manufacturing a range of digital printing solutions since 1998. VIPColor has utilized extensive industry knowledge to develop label printing solutions focusing on speed, simplicity, reliability, print quality and connectivity. With customers in over 35 countries, VIPColor printers enable businesses to create outstanding quality labels on-demand.
For more information contact - US: Armando Lopaz at ALopez@vipcolor.com (+1 510 744 3770); Europe: Joan Sebastia Satorra at js.satorra@venture.com.sg (+34 93 588 3018); Asia: alfred.au@vipcolor.com (+65 6482 1755)
Source: VIPColor Technologies USA Inc
Related Media
Tags
Additional Links