VIPColor Launches 4 New Desktop Color Label Printers
Press Release
•
updated: Sep 1, 2021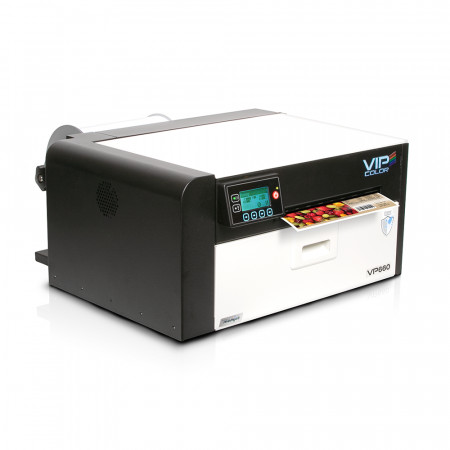 MILPITAS, Calif., September 1, 2021 (Newswire.com) - VIPColor Technologies, Inc. ("VIPColor Technologies"), a leading manufacturer of digital label printing solutions, today introduced four new desktop color label printers to its portfolio, namely VP500, VP550, VP610 and VP660.
VIPColor printers are commonly used in FORTUNE 500 companies and in the most stringent environments like cleanrooms for manufacturing medical devices. Using the field-proven Memjet VersaPass® inkjet technologies that have powered all VIPColor printers, the VP500 and VP550 models can print up to 8 inches/second (>1,000 6x4" labels in 10 min), achieve rich-color high fidelity prints at 1600 x 1600 dpi, and have individually replaceable 200ml dye ink cartridges for each color. In particular, the VP550 has enhanced eco-friendly water-resistant dye inks that make it suitable for product labels in chilled, refrigerated, and dense-moisture applications such as frozen food. Like all VIPColor printers, the VP5xx series can print labels up to 8.5" wide, giving users the flexibility to print large labels for large items such as storage drums and shipping boxes.
"With six times more productivity and more user-friendly than their similar sub-US$4,000 price range counterparts, the VP5xx series is indeed the best solution for first-time buyers of digital label printing solution and those who are upgrading from thermal printers," said Edward Ng, Global Sales and Marketing Director for VIPColor Technologies.
"Two years ago, many of our first-time buyers or customers new to digital labels told us that printing their product labels in-house gave them complete control of their labeling and shielded them from supply-chain disruptions caused by the Covid-19 pandemic. Some customers switched from using a two-step label printing process label to digital printing have benefited in streamline production, inventory identification improvement and product sorting efficiency."
"This motivated us to develop a budget-friendlier VP5xx series to help small and medium-sized businesses to respond to dynamic demand of today's market," added Edward.
Meanwhile, the brand new VP610 and VP660 replace the current VP600 and VP650 desktop label printers respectively. These new models are supercharged with a print speed of up to 12 inches/second and have sizeable 250ml ink cartridges. Users also benefit from lower cost-per-print compared to the earlier models. The VP6xx series, lauded by the market for their exceptional price performance when they were first launched, is ideal for medium-sized companies and enterprises scaling up their production or in need of the extra speed boost to handle dynamic or spontaneous peak label demand.
The VP500 and VP550 models are priced at US $3,495 and US $3,845 respectively, while the VP610 and VP660 are priced at US $4,995 and US $5,295 respectively.
All four models will be available in the U.S. and Asia from Nov. 1, 2021.
Source: VIPColor Technologies, Inc