Veterans Supporting Veterans Phoenix Patriot Foundation Cycling Leadville 100 MTB Saturday, August 15th, 2015
Press Release
•
Aug 13, 2015
Phoenix Patriot Foundation Veterans Cycling To Benefit Fellow Veterans In Leadville 100 MTB Race, Coached By Pro-Athlete Rebecca Rusch, PPF Cycling Ambassador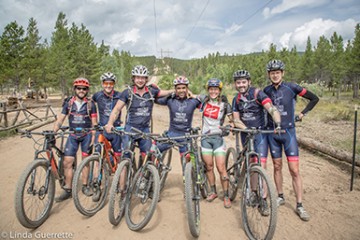 Temecula, CA, August 13, 2015 (Newswire.com) - ​​​​​Rebecca Rusch will be riding with the Phoenix Patriot Foundation (PPF) Cycling Program team, military veterans, as they participate in one of the most challenging ultra-endurance mountain bike races in the world, the Leadville Trail 100 Saturday August 15th. Rusch will ride with the PPF athletes, share her race expertise and support their efforts to shatter limits, as the Phoenix Patriot Foundation Cycling Program veterans ride in support of their fellow warriors. Rebecca is a Gold Medal winning mountain bike racer and works as a firefighter and EMT with the Ketchum Idaho Fire Department. Rebecca observed the PPF Cycling Program team members and was inspired by the courage and tenacity of the veterans. This year she will ride with PPF veterans sharing her race expertise and support their efforts to complete this grueling race.
The Phoenix Patriot Foundation cyclists are riding to help raise funds for adapted bicycles and PPF jerseys for current and future members in the program. One athlete, U.S. Army veteran Matt DeWitt, lost both arms in combat, and has been racing with the team using an adapted bike. Not every wounded veteran has that opportunity and adapted bicycles can cost anywhere from $4,000 to $10,000 depending upon their complexity. A team outfit with logo-branded jerseys and bike shorts costs approximately $110. Donations fund these expenses and allow Phoenix Patriot Foundation to provide these items to wounded veterans who want to participate but cannot afford adapted bicycling equipment.
"As a member of a military family, I have a deep understanding of the sacrifices that the military make and also how the bike can be an essential tool for therapy and recovery. This fueled my desire to work with the Phoenix Patriot Foundation. Riding with this veteran community will allow me to strengthen my understanding of what our soldiers go through. In return, I will be sharing my bike racing expertise to support of their goal to reach the finish line."

Rebecca Rusch, Professional Endurance Athlete
A custom- built tandem bicycle designed by PPF Cycling Program members and built by Da Vinci Designs, will be tested by the Cycling Program Director, former U.S. Navy SEAL Guy McDermott. Guy will be riding with a fellow former U.S. Navy SEAL, Bo Reichenbach, a double above the knee amputee. Using this custom built tandem bicycle allows Bo to participate using hand-cycle adaptations to independently provide power on the tandem cycle. Bo, a Patriot who has received aid from Phoenix Patriot Foundation, recently completed his second season as a member of the U.S. National Developmental Sled Hockey Team.
Phoenix Patriot Foundation is looking to grow the Cycling Program in order to support wounded veterans who want to enjoy an activity that provides fellowship, sport and physical activity positively affecting their well-being. The Leadville 100 MTB race is a one of a kind event in the cycling community that will bring attention to the organization's Cycling Program and enable the foundation with a platform to fund adapted bicycles for more wounded veterans.
PHOENIX PATRIOT FOUNDATION CYCLING PROGRAM
The Phoenix Patriot Foundation Cycling Program serves post-9/11 severely wounded and injured veterans enabling their cycling ambitions by providing them with a welcoming community of support. Program members help to bring attention to the needs of veterans and support fundraising activities to provide cycles for combat wounded veterans including custom adapted cycles, hand-cycles and recumbent cycles in addition to team jerseys so that veterans can participate in our program. The program members are veterans training veterans, and riding as a group in the community provides a method of reintegration, builds endurance and provides strong methods for reconditioning.
PHOENIX PATRIOT FOUNDATION MISSION
The Mission of Phoenix Patriot Foundation is to provide direct support to post 9-11 severely wounded and injured veterans enabling them to fully Recover, Reintegrate, and Remain Engaged in serving America while pursuing their passions. We aid each Patriot by developing and implementing an individually-tailored program to ensure independence and lifelong sustainability. This, in turn, enables our heroes to return to service within their communities and nation.
Related Media
Tags
Additional Links