Rising From the Ashes Tour: Veterans Supporting Veterans- a Fundraiser for Phoenix Patriot Foundation
Press Release
•
Sep 4, 2015
PHOENIX PATRIOT FOUNDATION TO TOUR EAST COAST WITH BAND "THE MAKERS", FEATURING USMC PURPLE HEART VETERAN MUSICIAN BRAD C. FITE; AUTHOR OF LIFE AFTER DEATH-A SURVIVOR'S STORY"; AS FUNDRAISER FOR THE FOUNDATION.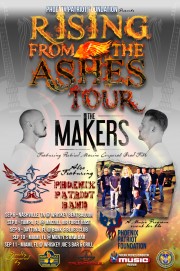 Temecula, CA, September 4, 2015 (Newswire.com) - ​RISING FROM THE ASHES
Rising From The Ashes, a fund-raiser benefiting veterans and the Phoenix Patriot Foundation, will span the East Coast with appearances beginning on Sunday September 6th in Nashville Tennessee and ending in Key Biscayne Miami on September 11th, with a tribute to veterans in remembrance of 9-11. This event marks the first tour of the Phoenix Patriot Band representing the Music Program at the foundation. Sharing the stage will be The MAKERS, featuring Brad C. Fite, Retired Marine Corporal and Purple Heart veteran. Earlier this year Brad's autobiography, "Life After death, A Survivor's Story, Part 1" was published, a story about his struggle back to health from catastrophic injuries sustained on a combat patrol in Afghanistan.
"In July of 2010, while conducting a combat patrol in Afghanistan, a roadside bomb detonated directly beneath me, causing catastrophic injuries that warranted the Purple Heart. My physical array of injuries would heal, but the invisible wounds haunted me for years. While recovering in multiple hospitals, PTSD began to take its toll. After three failed suicide attempts, I discovered that through music I could truly begin healing. When I met the Executive Director, Darrin Isham, and the rest of the team at PPF, I immediately knew that this was a foundation with authentic motives and a genuine mission. The foundation enabled me to pursue my passion in music. Without their support, help, and guidance, this dream would have never become reality."

Brad C. Fite, Retired Corporal USMC, Purple Heart Recipient
Daniel Dean will be joining the tour during the Nashville appearance. Daniel is a USMC veteran and Country recording artist who appeared on NatGeo's Ultimate Survival Alaska as part of Team Military. The first tour appearance is on Sunday, September 6th from 3:00 PM until 11:55 PM at Whiskey Bent Saloon, 306 Broadway, Nashville, TN 37201. All performances during the tour will include veteran tributes.
VETERANS SUPPORTING VETERANS
MacDill Air Force Base is the next stop where the Tour; which consists of veterans, band members, family members and support personnel; will be performing for military personnel and their families on Tuesday, September 8th at a time TBD.
Phoenix Patriot Band was formed in 2014 by Darrin Isham, Executive Director of Phoenix Patriot Foundation, who served our country for 25 years as a Navy SEAL, and is working with Phoenix Patriot Foundation to give back to combat wounded veterans. The band performs as a fundraising vehicle for the foundation.
FLORIDA TOUR INCLUSES 9-11 TRIBUTE
Additional performances are; Bank & Blues Club on Wednesday, September 9 from 8:00 PM -1 AM, located at 701 Main St, Daytona Beach, FL 32118; Monty's Raw Bar on Thursday, September 10 from 5:00 PM -10:00 PM located at 2550 S Bayshore Dr, Miami, FL 33133; and Whiskey Joe's Bar & Grill on Friday, September 11 from 7:00 PM-12:00 AM, located at 3301 Rickenbacker Causeway, Key Biscayne, FL 33149. The final stop will include a tribute to the fallen on 9-11.
PHOENIX PATRIOT FOUNDATION MUSIC PROGRAM
The Phoenix Patriot Foundation's Music Program communicates awareness about the issues veterans face, the mission of Phoenix Patriot Foundation, and the positive impacts it has had for our nation's veterans and their families. Veterans in the program use the connections between music and language making it an effective tool for accessing and expressing traumatic memories, building trust, relieving anxiety, and constructively releasing aggression.
Related Media
Additional Links