Pro-Athlete Rebecca Rusch Joins Phoenix Patriot Foundation for the Leadville 100MTB Race
Press Release
•
Jul 29, 2015
REBECCA RUSCH, SIX TIME MULTI-SPORT WORLD CHAMPION, FOUR TIME LEADVILLE 100 RACE CHAMPION, AUTHOR AND FIREFIGHTER TO REPRESENT PHOENIX PATRIOT FOUNDATION AS CYCLING AMBASSADOR AT 2015 LEADVILLE 100 MTB RACE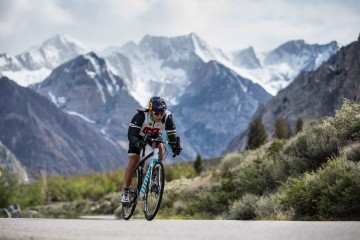 Temecula, CA, July 29, 2015 (Newswire.com) - ​​​​​​​With a record-breaking four Leadville championships under her belt, mountain bike icon Rebecca Rusch is now giving back to help military veterans in the Phoenix Patriot Foundation Cycling Program. She hopes to help veterans as they empower themselves by crossing the Leadville Trail 100 finish line. Rusch, also known as the "Queen of pain," is a professional endurance athlete and spokesperson.
As a member of a military family, she has a deep understanding of the sacrifices that the military make and also how the bike can be an essential tool for therapy and recovery. These personal ties are what fueled Rusch's desire to join forces with Phoenix Patriot Foundation at the 2015 Leadville Trail 100. This iconic race is known as one of the toughest ultra endurance mountain bike races in the world. This year, Rusch will ride with the Phoenix Patriot Foundation athletes, share her race expertise and support their efforts to shatter limits and reach the finish line on August 15th.
"As part of a military family, I feel strongly about supporting the great efforts of Phoenix Patriot Foundation and the American heroes who are racing in Leadville. My father was an Air Force pilot in Vietnam and never returned home. My sister is currently a Colonel in the Air Force. I have recently embarked on a quest to connect with my father on a deeper level. Being immersed in the Phoenix Patriot Foundation community will allow me to strengthen my understanding of what our soldiers go through. In return, I will be sharing my bike racing expertise in support of their quest to achieve this lofty goal."

Rebecca Rusch, Endurance Athlete
RED BULL ENDURANCE ATHLETE
Rebecca Rusch is an inspirational Red Bull endurance athlete with an international award winning career encompassing adventure racing, white water rafting, rock climbing, and endurance mountain bike racing. Eight years ago, Rebecca reinvented herself as a mountain bike racer while working as a firefighter and EMT with the Ketchum Fire Department. Rebecca's long anticipated autobiography, "Rusch to Glory" details her experiences with empowering stories that are meant to inspire people to rise above self-doubt and find their true potential. Aside from racing, Rebecca is the force behind the SRAM Gold Rusch Tour and her namesake race, Rebecca's Private Idaho, which gives back to a variety of organizations including the International Mountain Bike Association, World Bicycle Relief, PeopleForBikes.org, the National Interscholastic Mountain Bike Association, and the Wood River Bicycle Coalition.
CYCLING AMBASSADOR
Phoenix Patriot Foundation is pleased to announce that Rebecca Rusch will be joining the Phoenix Patriot Foundation as a Cycling Ambassador for this year's Leadville 100 MTB. Leading up to race day, Rebecca will be holding rides and clinics geared to share strategies and techniques to help riders reach their own personal race goals as part of her event, "The Leadville Experience." For this year's event, Rusch will don the Phoenix Patriot Foundation jersey and pedal alongside the American heroes of the cycling team, offering inspiration, motivation, and expertise all the way to the finish.
WARRIORS SUPPORTING WARRIORS
LT Guy McDermott, former Navy SEAL and Phoenix Patriot Foundation Board Member Emeritus and himself a VA disabled veteran, is currently the Program Director of the Cycling Team. In 2011, the Phoenix Patriot Foundation Cycling Team partnered with the So Cal Endurance race organization and its founder, Jason Ranao, to bring the Phoenix Patriot Foundation's message to a large, diverse, and passionate regional audience of racers, family members, and patriotic Americans. The team members motivate and inspire veterans by providing them the equipment, guidance, coaching, and infrastructure to catalyze their journey.
Juan Carlos Hernandez, member of the Phoenix Patriot Foundation Cycling Team, has personally witnessed how veterans through Phoenix Patriot Foundation programs that make a difference in the quality of the lives of veterans. Juan joined the United States Army in July 2006. In Dec. 2008 Juan deployed as a gunner on Chinook Helicopters and his aircraft was hit with an RPG flying over Afghanistan. The resulting crash landing Juan was injured causing an amputation to his left leg. Using cycling as rehabilitation for physical and mental therapy Juan gives back and helps other veterans achieve many of the same goals using cycling as a way to bridge the gap between military to civilian life. Juan is currently in training to participate in the Leadville 100 race with the Phoenix Patriot Cycling Team.
CYCLING PROGRAM
The Phoenix Patriot Foundation's Cycling Program works to inspire, galvanize, and empower wounded and injured veterans to reach their own finish line and become a source of motivation and guidance for their communities, peers, and veterans nationwide. The Phoenix Patriot Foundation's Cycling Program's Mission is to serve post-9/11 severely wounded and injured veterans in realizing their cycling ambitions by providing them with a welcoming community of support.
PHOENIX PATRIOT FOUNDATION MISSION
The overall Mission of Phoenix Patriot Foundation is to provide direct support to post 9-11 severely wounded and injured veterans enabling them to fully Recover, Reintegrate, and Remain Engaged in serving America or pursuing their passions. We aid each Patriot by developing and implementing an individually-tailored program to ensure independence and lifelong sustainability. This, in turn, enables our heroes to return to service within their communities and nation.
Phoenix Patriot Foundation recognizes the value of "Warriors Supporting Warriors" and sharing lessons learned. The veterans Phoenix Patriot Foundation works with are asked to give back in serving other veterans with the Phoenix Patriot Foundation community by sharing some of their time and talents. Phoenix Patriot Foundation programs are based on 'Quality not Quantity', and rely upon your donations to support veterans on their individual journey. Your donation will be used to assist post 9-11 wounded and injured veterans by providing scholarships and programs to foster independence and empowerment. Your partnership and support can make a difference!
http://phoenixpatriotfoundation.org/donate/
Phoenix Patriot Foundation is a 501 (c) (3) public charity organization; Tax ID 27-3074476.
Related Media
Tags