NAVY VETERAN JESSE IWUJI TO REPRESENT THE PHOENIX PATRIOT FOUNDATION AS NASCAR RACING AMBASSADOR
Press Release
•
Jun 29, 2015
'Warriors Helping Warriors' is part of the Phoenix Patriot Foundation's Mission: US Navy Veteran Jesse Iwuji to officially represent the Phoenix Patriot Foundation as Goodwill Ambassador bringing heightened awareness of the programs that PPF provides to combat and injured veterans post 9/11 through media outreach and competition as veteran spokesperson.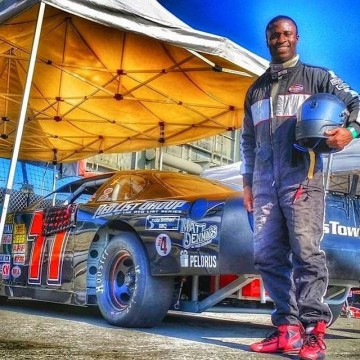 Temecula, CA, June 29, 2015 (Newswire.com) - ​​Active Duty, US Navy Veteran Jesse Iwuji is officially representing the Phoenix Patriot Foundation (PPF) through his 2015 NASCAR racing program as Goodwill Ambassador. He will be bringing heightened awareness of the programs that PPF provides to combat and injured veterans post 9/11 through his media outreach and competition as Phoenix Patriot Foundation spokesperson. NASCAR was born from the heritage of traditional American values and our Country's race fans are strong Patriots.
Jesse Iwuji Racing Ambassadorship, a Patriotic initiative, is a great fit for PPF and will enable PPF to tell your supported Veteran stories to a comprehensive diverse audience. PPF Ambassador advocacy also promotes a public platform for Veterans to be engaged in challenging pursuits, components of PPF program traditions, highly valued by participants.
Teaming up with the Phoenix Patriot Foundation allows us to give back to those who truly matter.

Jesse E. Iwuji, LT., US NAVY
TEAM EFFORT
Jesse stated that, "As a Veteran and blazing this new trail in the NASCAR ranks it wouldn't be right of me to do this if I wasn't supporting my fellow Veterans. Teaming up with the Phoenix Patriot Foundation allows us to give back to those who truly matter. It shows our troops, those currently serving, and honors those who have paid the ultimate sacrifice; that we can live our lives, pursue our personal dreams and passions while enjoying our freedom to do so, freedom that our veterans sacrificed to preserve."
DETERMINED
Jesse's determination is a perfect fit for life on the track which strongly mirrors four important demands required from each of us when we strive to give our very best; Preparation, Endurance, Teamwork and Effort. Jesse exemplifies PPF values representing service in action.
PARTICIPATE
Jesse's first Ambassador race will be held on the celebration of our Nation's Independence on the 4th of July! Please join PPF for a pre-race BBQ at the NASCAR Whelen All-American Series held at Irwindale Speedway, located at 500 Speedway Dr, Irwindale, CA 91706! Come and meet Jesse's #77 race team, our PPF staff and Veterans, and stay to celebrate the Holiday with race fans and enjoy the fireworks show. Jesse will be signing autographs and taking photos along with our PPF supporters and friends, with a Barbeque and entertainment by The Phoenix Patriot Band, representing the PPF Music Program. Funds raised at this event will support the PPF Family Program, specifically contributing towards efforts to build ADA SMART homes for two Purple Heart Veterans, Franz Walkup and Mark Zambon.
PATRIOT PARTNERS
You can make a difference by supporting your veterans through programs that make a difference in the quality of the lives of veterans. PPF programs and based on 'Quality not Quantity'. Our Veteran programs thrive year after year as your donations support veterans on their individual journey. To make learn more about Jesse and to find detailed event information, please visit our website at: http://phoenixpatriotfoundation.org/. Your donation is critical to our shared mission, and it will be used to assist post 9-11 combat and wounded veterans by providing scholarships and programs to bring about independence. Your partnership and support can make a difference!
PHOENIX PATRIOT FOUNDATION MISSION
Our Mission at Phoenix Patriot Foundation is to provide direct support to severely wounded and injured veterans enabling them to fully Recover, Reintegrate, and Remain Engaged in serving America or pursuing their passions. We aid each Patriot by developing and implementing an individually-tailored program to ensure independence and lifelong sustainability. This, in turn, enables our heroes to return to service within their communities and nation. Phoenix Patriot Foundation is a 501 (c)(3) Veteran public charity organization; Tax ID 27-3074476.
Media Contact
Ms. Audrey Dalton, Development & Marketing Director
Phoenix Patriot Foundation
Audrey@PhoenixPatriotFoundation.org
Related Media
Tags