Vela's Upgraded Version 6.5 Smart Loggers Will Impress NAB-NY 2019 Attendees
Press Release
•
updated: Oct 9, 2019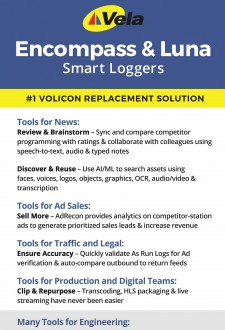 CLEARWATER, Fla., October 9, 2019 (Newswire.com) - ​​​​Vela, the leading provider of compliance monitoring and smart logging solutions, announces the unveiling of version 6.5 at NAB-NY 2019. Both Luna and Encompass have advanced engineering tools with live and recording multiviewers, QoS/Compliance Alerting, and AirCheck/Ad Verification. Encompass adds competitive news comparison and competitor commercial analysis that produce sales leads, clipping of original media, links for AI/Machine Learning search and analysis.
Version 6.5 of Vela Luna and Encompass provide many enhancements to the comprehensive and highly scalable platform, including:
· ​Newtek NDI and Dolby Atmos support added to newer formats and standards supported, including: SMPTE-2110, SMPTE-2022 (TSoIP & SDIoIP), ATSC 3.0, OKTA, DVB and SCTE-27
· Enhancements to Vela AI/ML Integration, including many additional benefits, including:
> Power search and deep discoverability of asset library based on recognition of faces, voices, logos, objects, graphics, and audio/video patterns for integration of metadata to underlying video
> Topic recognition for automated segmenting of stories to expedite workflows for repurposing
> Transcription of interviews/speeches and integration of lower third OCR and graphics into metadata with ability to adjust the time breaks
> Transcription that can differentiate between people and aired content/commercials and be translated when in a foreign language
· Addition of TSoIP outputs and live streaming to social media platforms (YouTube, FB, Periscope)
· Ability to schedule exports of clips and publish without commercials based on SCTE tags
· Addition of custom metadata entry via pull-downs added to News Notes & Discrepancy Logging
· Further expansion of Vela's unique Content Compare tool for contrasting return feeds to original
· Enhancements to Ad|Recon that generates and prioritizes sales leads based on analysis of competitor channel commercials as compared to your own station commercials
· New portable Multiviewer and portable Penalty Box App
· Error notification within dashboard for clips that are missing captions.
"We are thrilled about this significant unveiling of version 6.5 at NAB-NY", said Ken Rubin, Vela Vice President - Worldwide Sales. "The enhanced features and capabilities further extend Encompass' ability to help broadcasters, programmers and MVPDs to streamline their operations, increase their programming integrity, and ultimately increase their ratings and share of advertising. It's no surprise that Vela is the #1 U.S. Volicon-replacement solution, with a vast majority of stations turning to Vela."
Image Links:
http://www.vela.com/images/press/videowall.jpg
http://www.vela.com/images/press/centralmv.png
http://www.vela.com/images/press/editor.png
http://www.vela.com/images/press/tsmap.png
http://www.vela.com/images/press/ratings.png
About Vela
25-year-old Vela is the fastest-growing provider of smart loggers, winning an Emmy® award, Compliance Monitoring/Logging Product-of-the-Year at NAB-2019, and Best-of-Show at both NAB-2019 & IBC-2019.​
​
​Vela's Luna/Luna+ offer an extensive suite of affordable, high-value tools that capture proxy content 24x7 with live-multiviewer, QoS monitoring/logging/alerting and Transport Stream analytics, integrated with As-Run logs for internal air-check and ad-verification.
​Vela's Encompass adds original quality capture for clipping and repurposing back-to-air or digital, competition monitoring and a host of advanced features, including: AI/ML integration, ratings graphing, competitor-aired commercial analysis prioritizing lead lists for sales, HLS packaging and more.
Source: Vela
Tags
Additional Links