Vela Offers Corona-Free NAB-2020 Alternative
Press Release
•
updated: Mar 11, 2020
NAB-2020 Cancellation Mobilizes Vela's Live NAB-Experience!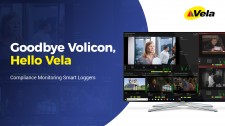 CLEARWATER, Fla., March 11, 2020 (Newswire.com) - ​​​​​Vela, the leading provider of smart logging multiviewer solutions, announced its Virtual-NAB Experience, in light of the cancellation of NAB2020. Produced live from Vela's Clearwater, FL world-headquarters, they will stream live-video combined with an interactive screen-share demonstration unveiling version 7.0 of their award-winning and feature-rich Luna+ and Encompass solutions that provide Compliance Monitoring, QA, Multiviewing, Logging and more.
"The streaming experience is designed to convey the personality of Vela's large US-based Technical Support, Software and Engineering teams," remarked Ken Rubin, VP of Worldwide Sales. He continued, "We hope this virtual-NAB experience will deliver the same exciting and interactive experience attendees would have received in our booth."
​Additionally, because all Vela Smart-Loggers, whether located on-premises, in the Cloud, or Virtualized are fully accessible to authorized-users online, Vela is offering private online Test-Drives of the latest 7.0 software version, which raises the gold-standard for Compliance Monitoring and Logging.
Special Incentive - Individuals who sign-up for and attend Vela's Virtual-NAB Experience or a private Test-Drive demonstration between now and April 22 will be entered to win a turnkey Vela Luna system (rules and restrictions apply).
Contact Vela for more details on the "Win a Vela Luna" Contest, to make an appointment to attend one of the live Virtual-NAB demonstrations, or to schedule your own private Test-Drive
at Sales@Vela.com, +1-727-944-1120, or at http://vela.com/coronafreenab.html.
As the spread of the COVID-19 coronavirus continues, Vela's Business Continuity Plan enables us to support our customers without interruption. Our support lines will remain staffed 24x7 by employees working from home and our software engineers will remain focused on the innovative new features and version updates we have planned. We are monitoring federal and state restrictions and recommendations to maintain the safety and health of our staff and customers as we continue to operate, full-steam ahead.
About Vela
Over 400 Stations and Broadcasters moved to Vela smart loggers in the last 12 months, making 25-year-old Vela the fastest-growing provider of Volicon-replacement systems – delivering valuable tools not just to engineering, but to all broadcast departments.
Vela's Emmy® award-winning ways continued as Vela received the Compliance Monitoring & Logging Product-of-the-Year award at NAB-2019, and Best-of-Show awards at NAB-2019 and IBC-2019.
Vela's Luna/Luna+ offer an extensive suite of high value and affordable tools that capture proxy content 24x7 with live-multiviewer, QoS monitoring/logging/alerting and Transport Stream analytics, integrated with As-Run logs for internal air-check and ad-verification.
Vela's Encompass adds original quality capture for clipping and repurposing back-to-air or OTT/Social, competition monitoring and a host of advanced features, including: AI/ML integration, ratings graphing, competitor-aired commercial analysis producing lead lists for sales teams, HLS packaging, and more.
Vela Smart-Loggers provide engineers and station-group management complete visibility and access to their entire station lineup – and their competition. With its large US-presence and customer base, Vela has become the de facto Volicon replacement solution in the US and increasingly, throughout the world.
Source: Vela
Related Files
Additional Links