Union Officials Mike Hand and Joe Lockley Win Distinguished Service Award
Union Carpenters and Other Trade Volunteers Team Up to Install Wheelchair Lift
Press Release
-
updated: Jun 11, 2019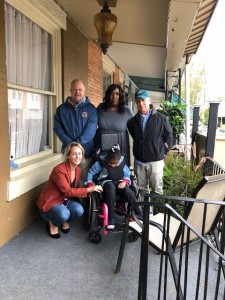 PHILADELPHIA, June 11, 2019 (Newswire.com) - Union carpenter officials Mike Hand and Joe Lockley received a Distinguished Advocate award from the Support Center for Child Advocates of Philadelphia for helping to build a wheelchair lift for a disabled child.
They brought together a team of volunteers — carpenters and other tradespeople — to build the lift for Ci'Ani, who became severely disabled and confined to a wheelchair after being a victim of child abuse.
"We were approached by the Support Center for Child Advocates (SCCA) and knew that we could step in to aid this lovely young person," said Mike Hand, assistant executive secretary-treasurer of the Keystone Mountain Lakes Regional Council of Carpenters, which includes Greater Philadelphia.
Moving Ci'Ani in her wheelchair up and down the steps to the street at their West Philadelphia home and waiting for a school bus, for example, became a tremendous obstacle for Ci'Ani's grandmother, Charlotte Thornton, Hand explained. "We know that with our skill set and the right materials, we could install this wheelchair lift and make life easier for Ci'Ani and her grandmother," Hand said.
While the volunteers worked on weekends and evenings over four weeks, "what ultimately made the project possible was a donation by a chairlift company, 101 Mobility of Philadelphia that was kind enough to donate the actual lift and the labor to install it," said Lockley, a representative for Carpenters Local 158.
"This is a great story of generosity, cooperation and stepping up," said Frank Cervone, executive director, SCCA. He lauded Katherine Etherington, a volunteer SCCA attorney representing Ci'Ani, who approached Mike Hand and Joe Lockley, which gave the project momentum. "Together Mike and Joe led carpenters and other generous trades in a wonderful charitable project for Ci'Ani and Charlotte," said Cervone.
Most union carpenter locals have a representative that serves as a starting point when someone approaches them for a volunteer effort that needs the skills of a highly trained carpenter. Assisting Ci'Ani and her grandmother was an example of that volunteering spirit.
"We'll continue to do these types of projects every day of the week when they become available," said Lockley. "We're about helping the community out and trying our best to show that there are people in the world that can help you along the way when you need it."
***
Source: Keystone Mountain Lakes Regional Council of Carpenters
Share:
---
Categories: Construction
Tags: 101 Mobility of Philadelphia, Carpenters Local 158, Joe Lockley, Keystone Mountain Lakes Regional Council of Carpenters, Mike Hand, Support Center for Child Advocates of Philadelphia
---