Union Carpenter Local 158 Volunteers Breathe Life Into Burned-Out Dwelling
Transforming Torched Shell into Livable Space for At-Risk Youth
Press Release
-
updated: May 13, 2019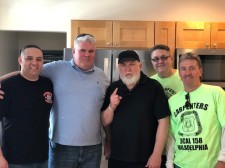 PHILADELPHIA, May 13, 2019 (Newswire.com) - When representatives from Philadelphia Carpenters Local 158 had a chance to examine the burned-out shell of Nehemiah House in Philadelphia's Kensington section, they offered to help. They were responding to a plea from a local pastor who knew they had access to a pool of highly skilled union carpenters they could call upon to restore Nehemiah House to livable conditions. "We had the talent; we just had to contact our membership and ask for volunteers," said Mike Griffin, representative, Local 158.
Griffin, Ron Papa, representative, Local 158, and Tom Janda, shop steward, Local 158, operating under the Keystone Mountain Lakes Regional Council of Carpenters, formed the team and were able to recruit the carpenter volunteers for the project. They estimate that about 35 carpenters, including several retirees and mill cabinet apprentices, volunteered — usually in evenings and weekends — and contributed 1,200 hours on the project.
Nehemiah House is the idea of Pastor Buddy Osborn, senior pastor of the Rock Calvary Chapel and founder of Rock Ministries of Philadelphia, who describes the Kensington area as one of the poorest in the country. He believed that, given the opportunity, at-risk youth in the area could turn their lives around with guidance, stability and a plan for success. What he needed was a location that could serve as a haven during their transition period.
A donation of the property led to Nehemiah House, but two fires by arsonists essentially gutted the building.
Pastor Osborn was well-situated to ask for help from the carpenters and other building trades in Philadelphia, serving as the chaplain to the Philadelphia Building Trades Council.
"My dream was to have a home for youths, which is why I approached the carpenters and other trades," Pastor Osborn said. He chose the name because of its historical connection. Nehemiah is an Old Testament figure that played a role in the rebuilding of the Second Temple in Jerusalem.
"The carpenters did an incredible job with a variety of tasks that need their specialized skill," he said. "We greatly appreciate their time in the evenings and weekends to help us when they could have been doing something else."
Pastor Osborn also heaped praise on other building trade volunteers who pitched in, bringing their specialized talent, including electricians and plumbers.
Nehemiah House has four at-risk youths at home, with room for 10 more. "These kids don't just walk through the door," says Pastor Osborn. "They have to apply and demonstrate a willingness to learn and listen. If they don't have a driver's license or a high school diploma, we step in to ensure they obtain a license and a GED certificate."
He also introduces the youths to the construction industry, explaining that, if they enter a union apprenticeship program, they can learn a trade, develop marketable skills and receive good wages. "They might even become carpenters," he said.
Pastor Osborn enthusiastically describes the contribution by the carpenters and other skilled construction trades who made Nehemiah House a reality.
"Nehemiah House will give youths that show a desire to improve a real chance to succeed in life," Pastor Osborn said. "And those starting points became possible because the carpenters and other build trade volunteers made it a reality."
"This was a team effort that the carpenters from Local 158, and other trades, committed themselves to help the youths in the neighborhood," said Griffin. "All of these volunteers did the work, but we believe that their contribution will continue because these young people now have a safe place to learn about life, work and how to create a future for themselves."
Source: Philadelphia Carpenters Local 158
Share:
---
Categories: Construction
Tags: Buddy Osborn, Carpenters Local 158, Carpenters Local 252, Keystone Mountain Lakes Regional Council of Carpenters, Mike Griffin, Ron Papa, Thomas Janda
---