Union Carpenters Local 255 and 164 Volunteers Build Ramp for Challenged Student
Kindness of a bus driver and bus aide help wheelchair-bound student
Press Release
-
updated: Sep 16, 2019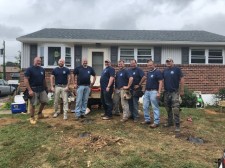 NEW CASTLE, Del., September 16, 2019 (Newswire.com) - When bus driver Tim Kelleher and his aide, Margaret Anderson, saw the struggles of a daily passenger, they had to help.
Roger Yeager III, a 13-year-old wheelchair-bound student, needed his grandfather to lift him over his shoulder — often in inclement weather — to carry the wheelchair from their house to the bus.
"Roger is a sweet kid, and of course, he grows every year, just as his grandfather ages every year," said Kelleher, a former businessman. "I knew I wanted to do something to help make life easier for this family, so I began seeking volunteers."
Kelleher contacted members of the Keystone Mountain Lakes Regional Council of Carpenters Local 255 and 164 because he knew they had the skill set to construct the wheelchair ramp. On September 6 through 12, 32 union carpenters constructed the ramp.
Kelleher also needed volunteers to donate the building supplies, which totaled about $2,000. He received support and supplies from 84 Lumber, Newark and Lowes, New Castle. ACE Interiors donated the nails, hardware and screws needed for the project.
"Union carpenters are always ready to lend a hand, and we were happy to help make life easier for Roger and his family by building the ramp," said Sam Noel, Council Representative, Local 255.
"What makes this special for us is that we're all part of the greater neighborhood, and Roger is one of us. Helping out in the community is a tradition with us." Each union local has an individual assigned to handle requests for volunteer efforts that require the skills of a carpenter.
Roger has attended the John G. Leach School since preschool. The school serves students ages 3 to 21 who have disabilities. Roger has multiple disabilities, including deaf and blind, severe intellectual disability, orthopedic and other impairments," according to the Colonial School District.
"This is a true example of what is called 'The Power of WE' in the Colonial School District," said Superintendent Dr. Dusty Blakey. "It takes all of us, bus drivers, educators, business partners and volunteers, to come together to ensure that the needs of our students are met. Educating our students goes beyond the classroom, and thanks to a dedicated bus driver, we now have this wonderful project taking place to make life easier for Roger and his family."
###
Source: Keystone Mountain Lakes Regional Council of Carpenters Local 255
Share:
---
Categories: Construction
Tags: Keystone Mountain Lakes Regional Council of Carpenters Local 255, Roger Yeager III, Sam Noel, Tim Kelleher, union carpenters
---