Twice Sheared Sheep Announces Their New Spring / Summer Recycled Yarn Line "The Cotton Collection"
Twice Sheared Sheep invites yarnies everywhere to 'welcome back the sun" with their new cotton recycled yarn line.
Press Release
-
updated: Apr 4, 2017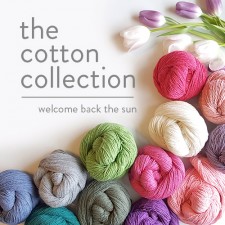 Hudson, Colorado, April 4, 2017 (Newswire.com) - Twice Sheared Sheep invites yarnies everywhere to 'welcome back the sun" with their new cotton recycled yarn line.
Just in time for warmer weather, the respected yarn recycling company has announced the release of their first ever cotton yarn collection. Featuring luxurious handspun yarns in over 40 spring and summer shades, knitters and crocheters alike will swoon over Twice Sheared Sheep's new cotton yarn line set to release on April 5th.
The Cotton Collection is a break in tradition for the 10 yr old company. Known for their very fine lace weight yarns in merino wool and cashmere, Twice Sheared Sheep took a step out of the ordinary and created an entire collection of mid weight cotton yarns. "We really listened to what our fans said they wanted" Dawn Prickett, Twice Sheared Sheep's owner said, "They wanted yarns that were a little thicker for quicker projects, and something that was not only eco-friendly but washing-machine friendly as well! We are just delighted with how these ideas came together in The Cotton Collection."
In an ambitious move, the Cotton Collection includes two brand new yarns, Cotton Sport and Cotton Worsted, set to be available in over 20 shades each. Maintaining the high standards that Twice Sheared Sheep has come to be known for, each skein of yarn has been meticulously re-spun by the experienced recyclers at Twice Sheared Sheep. "Re-spinning all the yarn is a tedious process," Prickett said, "But it is definitely worth it. We want our fans to have the very best knitting or crocheting experience and to do that they need the best yarns we can give them."
Don't be fooled, though, the Cotton Collection is not your average cotton yarn. Designed with light weight, summer garments in mind, Cotton Sport and Cotton Worsted are premium cotton yarns.  While many cotton yarns are stiff and hard, the Cotton Collection yarns have been engineered to be super soft and pliable, making them a joy to work with and wear. "It is really the benefit of recycled cotton," Prickett said, "Our yarns are so much softer than most cotton yarns available on the market today, and they have been spun specifically so that they drape beautifully against the body."
Not sure what to make? Twice Sheared Sheep has you covered by including 6 stunning patterns by independent designers. Most notable is the Vintage Summer Shawl crochet pattern by Angela Plunkett from Little Monkey's Design. Commissioned specifically for The Cotton Collection, the shawl is the first crochet pattern offered by Twice Sheared Sheep. With its stylish stripes, asymmetrical shapes and multiple textures, the Vintage Summer Shawl is sure to be a favorite of crocheters this summer.
Whether you are knitting a lacy summer sweater, or crocheting a soft, snugly blanket for the cherished baby in your life, the Twice Sheared Sheep's new Cotton Collection has you covered. With machine washable yarns in 2 of the most popular weights, knitters and crocheters will find yarns to fit every project.
The full collection can be seen on twice sheared sheep's website:
http://twiceshearedsheep.com/cotton-collection
About the Company:
Twice Sheared Sheep has been providing knitters around the globe with luxury recycled yarns since 2006. As a long respected yarn company, Twice Sheared Sheep has a passion for recycled yarn. It is a tenant of the company that yarn should not only be beautiful, but environmentally responsible too.
For more information, visit: http://twiceshearedsheep.com
Or contact us at dawn@twiceshearedsheep.com
Source: Twice Sheared Sheep
Share:
---
Categories: Green Industries, Sewing and Knitting, Hobbies and Crafts
Tags: craft supplies, crochet, eco friendly, green business, knitting, recycled, recycled cotton, yarn
---