Thriving During a Pandemic - Twice Sheared Sheep Celebrates Growing During a Pandemic With the Launch of Their New Collection - a Knitter's Life
Press Release
•
updated: Jan 19, 2021
New collection is seen as a triumph for one small business during the pandemic.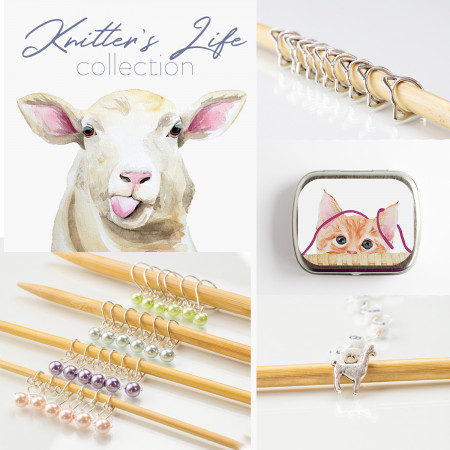 POCATELLO, Idaho, January 19, 2021 (Newswire.com) - Twice Sheared Sheep seeks to start 2021 off right by creating a collection that features all the things that helped knitters survive a trying year: fluffy fiber animals, four-legged friends, and pretty tools that can't help but make you smile.
"When the world locked down last March, I had no idea what this was going to mean for our little business. We couldn't get the supplies we needed. We couldn't have our team come work in the studio. We didn't even know if we would have a business in a year. This new collection is absolutely a triumph." Dawn Prickett, Twice Sheared Sheep's owner said.
When lockdowns hit, Prickett dove headfirst into adapting her business to fit the reality of life in 2020, creating a system of blind drop boxes so her assistants could work remotely from home hand-making the products the company is known for, and instituting twice-weekly zoom "knit-togethers" so her customers would be able to see a friendly face.
To her surprise, Twice Sheared Sheep's loyal customers responded with overwhelming support. And it soon became apparent that not only was their little business going to survive the pandemic but it was thriving.
"We kept every one of our team numbers working the whole year, and we grew so much that we just hired another team member this week!" Prickett said.
"We were lucky that we have been a web-based business from the beginning, but there is no way I could have predicted the amazing outpouring of support we received from our customers. Knitters really are the most wonderful people on the planet, and I wanted to make sure I really celebrated them in our new collection!"
Twice Sheared Sheep's new collection features 12 new styles of their signature knitting row counter (a handy tool to let knitter's keep their place in their knitting pattern) as well as glass pearl stitch markers in lovely pastel shades, and new storage tins featuring Prickett's own watercolor paintings.
Prickett absolutely hit it out of the park with this new collection by filling it with every knitter's favorite 4 legged critters, sheep, llamas, troublesome dogs, and adorable kittens. It is obvious that after serving the knitting community for 14 years, Prickett knows her customers well. Knitters everywhere simply aren't going to be able to pass this collection up.
About the Company:
Twice Sheared Sheep has been providing knitters around the world with specialty knitting tools since 2006. The small Pocatello based company has a passion for all things knitting. Their dedication to their customers and employees alike shows in every aspect of their business from their high-quality products, to their absolutely stellar customer service.
For more information, visit: http://twiceshearedsheep.com
Or contact us at dawn@twiceshearedsheep.com
Source: Twice Sheared Sheep