Twice Sheared Sheep Announces Their First Ever Hand Dyed Recycled Yarn Line Titled "Hidden Forest"
Twice Sheared Sheep is set to release stunning new line of hand dyed recycled yarns to the delight of their eagerly awaiting fans.
Press Release
-
Oct 10, 2016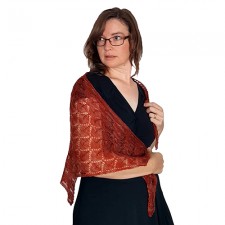 Hudson, CO, October 10, 2016 (Newswire.com) - Twice Sheared Sheep is set to release stunning new line of hand dyed recycled yarns to the delight of their eagerly awaiting fans.
The respected yarn recycling company invites knitters to experience the beauty of an enchanted forest this fall with their new line titled "Hidden Forest". Set to go live to the public October 18th, the line includes an exclusive shawl design, knitting pattern, and decadent hand dyed recycled yarns in 7 drool worthy shades.
The central focus of the line is the exclusive Kellerwald shawl. Available as a knitting pattern, or as a finished garment, its classic design mimics the leaves of the ancient beech trees of Germany's Kellerwald forest. An elegantly simple triangular shawl, Kellerwald is available ready to wear in the "Fire Maple" colorway, or to knit in 7 stunning, ready for fall shades.
The luxuriously beaded lace of the Kellerwald shawl took 2 weeks of detailed knitting for Dawn Prickett, Twice Sheared Sheep's founder. Looking at this ethereal masterpiece, though, every minute was worth it.  It drapes around the body and flows like water as it sits weightlessly across the shoulders.  The wonderfully versatile design allows the wearer to style it as a wrap, a shrug, or an elegant triangular scarf, making it the perfect finishing touch for any outfit this fall.
The knitting pattern, an original for Twice Sheared Sheep, is wonderfully simple, making it perfect for even the beginning lace knitter. The easy to memorize 6 row repeat makes it a great carry along project, and the light weight lace yarn makes it compact enough to fit into any project bag.
Rounding out the line are 7 breathtaking colors of expertly hand dyed lace yarn. Created on a base of their signature Merino Lace, Twice Sheared Sheep has out done themselves with these easy to wear colors. They were intentionally dyed in a shifting, random pattern to ensure that the colors never pool or streak. Drawing inspiration from elements of a mythical "Enchanted Forest", each color sports names like "Emerald Vale" and "Moonlight Stroll". Between the names, colors, and the decadent feel of the yarn, Twice Sheared Sheep hopes to bring an element of enchantment to their fan's lives.
Keeping with the eco-friendly nature of their yarns, Twice Sheared Sheep's founder Dawn Prickett chose to use only environmentally responsible dyes in their new line.
"We wanted to ensure that everything about the new line, from start to finish, was as environmentally responsible as we could," Prickett said. "The dyes are all heavy metal free, and our yarns, as always, are 100% recycled, natural merino wool.  It makes me so happy to know that not only will our fans get stunning yarns, but they can feel good that they are truly good for the environment as well!"
Ranging in price from $5 for the pattern to $290 for the finished knitted masterpiece, there is something in this new yarn line for everyone.
The full collection will be available to the public 10-18-16 on Twice Sheared Sheep's website: http://twiceshearedsheep.com
About the Company
Twice Sheared Sheep has been providing knitters around the globe with luxury recycled yarns since 2006. As a long respected yarn company, Twice Sheared Sheep has a passion for recycled yarn. It is a tenant of the company that yarn should not only be beautiful, but environmentally responsible too.
For more information, visit: http://twiceshearedsheep.com
Or contact us at dawn@twiceshearedsheep.com
Source: Twice Sheared Sheep
Share:
---
Categories: Green Industries, Hobbies and Crafts, Sewing and Knitting
Tags: c, craft supplies, Eco friendly, Green business, knitting, knitting pattern, sustainable products, yarn
---