Twice Sheared Sheep Announces New Luxury Recycled Yarn Line Dubbed "Color Play"
Twice Sheared Sheep stunned knitters this summer with a radiant new merino yarn line in a kaleidoscope of gradient colors.
Press Release
-
Jun 6, 2016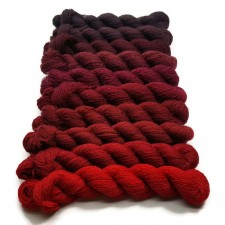 Hudson, Colorado, June 6, 2016 (Newswire.com) - ​The respected yarn recycling company, Twice Sheared Sheep, invites knitters to effortlessly play with color in their new yarn line entitled "Color Play." The line includes professionally coordinated hues to take the guess work out of color selection and lay the foundation for a knitter's own creativity. With solid colored yarns in over 20 colors, new color packs, and the exclusive new "Echo" yarn, Twice Sheared Sheep is on a mission to show the world just how stunning being Eco friendly can really be.
The carefully coordinated color packs provide a fool proof color palate that will take any project from adequate to amazing. Drawing inspiration from day dreams, each color pack is designed to evoke a feeling in the knitter whether that is peace and serenity in "Forest Road" or passion for life in "Heart's Desire." Using ten colors of Twice Sheared Sheep's signature Merino Lace yarn, color packs allow the knitter to make a generous sized shawl or wrap that is as light as a feather and wonderfully soft to the touch.
The exclusively designed "Echo" yarn is a new creation of Dawn Prickett, Twice Sheared Sheep's owner. Working with a palate of over 20 merino yarns, Prickett hand spun the yarn on her vintage spinning wheel so that the colors slowly graduate from one hue to another and back again creating an effortless echo effect in any project. The fingering weight yarn is an excellent choice for knitters who may be shy of the fine lace weight yarns Twice Sheared Sheep is known for. Even the simplest projects will become stunning works of art when using the new Echo yarn.
Rounding out the line is a brand new pattern designed exclusively for the Echo yarn. "Pathway" is a simple, zen like knit that creates a stylish asymmetrical triangle. Worn as a scarf or a small wrap, Pathway is a project that even beginner knitters can handle and is bound to garner compliments wherever you go.
"I can't wait to see what knitters create with this new line" Prickett said. "Being a yarn designer is such a rewarding experience. My job is to provide beautiful yarns, but the truly magical part is what the individual knitters create with those yarns. It is a great privilege to bring these recycled yarns to the world. Every knitter deserves to knit with beautiful yarns, and beautiful yarns, even if they began life as an unloved sweater, deserve to be hand knit."
Ranging in price from $5 to $45 there is something in this new yarn line for every knitter.
The full collection can be seen on Twice Sheared Sheep's website at: http://twiceshearedsheep.com
About the Company:
Twice Sheared Sheep has been providing knitters around the globe with luxury recycled yarns since 2006. As a long respected yarn company, Twice Sheared Sheep has a passion for recycled yarn. It is a tenant of the company that yarn should not only be beautiful, but environmentally responsible too.
For more information, visit: http://twiceshearedsheep.com
Or contact us at dawn@twiceshearedsheep.com
Source: Twice Sheared Sheep
Share:
---
Categories: Green Industries, Hobbies and Crafts, Sewing and Knitting
Tags: craft supplies, Eco friendly, Green business, knitting, knitting pattern, recycled, sustainable products, yarn
---