Top Tech and Healthcare PR Firm, MACIAS PR, Releases Q1 Publicity Report
Press Release
-
updated: Apr 4, 2019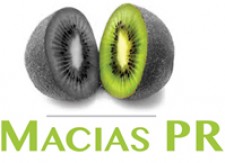 NEW YORK, April 4, 2019 (Newswire.com) - The top tech and healthcare PR firm — MACIAS PR — has released its first quarter publicity report, detailing the media coverage it secured for clients from January to March 2019.
In January, MACIAS PR secured a TV segment with the top-rated morning show, the NBC Today Show, the showcased the world's first smart belt, reaching more than 1.4 million viewers across the country. Over the course of the media campaign, MACIAS PR also secured publicity for the health tech client on Entrepreneur, USA Today, Forbes and others.
Mark Macias, the founder of the firm, says their team took over this media campaign after the previous PR firm failed to secure publicity.
"We turned this consumer product into a news story – and that led to more coverage," said Macias. "The media won't run a commercial or advertisement in their news coverage. This campaign required a subtle sell that positioned their consumer product as the world's first smart belt that was delivering weight loss results for consumers based on a study we found."
MACIAS PR also secured prominent news coverage for their other clients.
Kiplinger Magazine is one of the largest consumer finance publications. In March, MACIAS PR placed an in-depth article in the April issue that was also featured online. The Kiplinger story positioned its health tech client as a consumer expert on prescription medications. The Chicago Tribune and the Houston Herald published similar articles that sourced the mobile app as a source for saving money.
CBS 2 in New York broadcast a different TV angle that featured the mobile app as a solution for avoiding dangerous drug interactions. MACIAS PR was able to syndicate that segment to other CBS affiliates, securing more publicity for the mobile app in Denver and Pittsburgh.
MACIAS PR rounded out the first quarter with more media placements in Women's Health, Business Insider, Good Housekeeping, Health.com and others.
How Much Does PR Cost? FreePRQuote.com Reveals the Cost for any PR Campaign
In February, MACIAS PR unveiled a new tool to help business owners identify the cost for any PR campaign, regardless of size. The online tool, FreePRQuote.com, allows businesses to get a free PR estimate without even picking up the phone.
Macias says he created the virtual tool as a way to help business owners quickly understand the cost for any PR campaign.
"Many business owners and founders want a quote before they hop on a call," said Macias. "I get it. I'm a business owner too and don't want to waste my time unless I know the cost and return on investment. But PR isn't building widgets. It requires a deeper understanding of your PR goals; is it a B2B or B2C campaign; how strong is your initial storyline; do you have any data to reinforce trends; all of these factors contribute to cost. The FreePRQuote.com allows businesses to get a customized quote based on those answers."
About MACIAS PR
Marketing peers named MACIAS PR the 2017 and 2018 Strategic PR Firm of the Year. In 2015, 2016 and 2017, Finance Monthly named MACIAS PR the Financial PR Firm of the Year. The founder – Mark Macias – is a former Executive Producer with NBC and Senior Producer with CBS in New York. He's also a frequent contributor with CNBC and author of the books, Beat the Press: Your Guide to Managing the Media and the Tao of PR.
Source: Macias PR
Share:
---
Categories: Business News
Tags: best healthcare pr firms, best nonprofit pr firms, healthcare pr firms, macias pr, political pr firm, Pr agencies nyc, top tech pr firms, top tech pr firms nyc
---